Attack of the Killer Couches - Keep Toxins Out of Our Furniture!
TAKE ACTION: Please sign the Crystal Golden Jefferson Furniture Safety and Fire Prevention Act petition today so we can make it clear to our California leaders that it's not acceptable to compromise health of our children and families with toxic flame retardants in furniture.
http://momsrising.democracyinaction.org/o/1768/signUp.jsp?key=3081
When you sign on, you'll join us in telling the California legislature that, "AB 706: The Crystal Golden Jefferson Furniture Safety and Fire Prevention Act must be passed immediately to ban the most toxic types of flame retardant chemicals used in furniture and bedding, and to provide the furniture industry more options for creating safer products."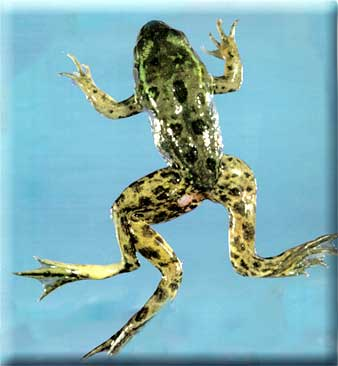 BETTER LIVING THROUGH CHEMISTRY? Frogs are a semi-aquatic variety of the proverbial canary in the coal mine. Frogs are visibly sensitive to pollutants in their environment. Hermaphrodite frogs, five legged frogs and dwarfed frogs are being correlated with man made chemicals that are polluting in our waterways. As our homes accumulate different kinds of chemical pollutants our children are most vulnerable. Their small bodies take in more air and more food per body weight, they crawl they put their hands in their mouths and when we measure fire retardant chemicals in their bodies the concentration is higher while their developing bodies are more at risk.
FIRE RETARDANT BACKGROUND: MomsRising.org, MOMS (Making Our Milk Safe), and Friends of the Earth have been working together to pass AB706, a ban on the most toxic types of chemicals currently used extensively in CA furniture and baby products. AB706 has now been renamed the Crystal Golden Jefferson Furniture Safety and Fire Prevention Act for the 2008 session.
This bill passed in the CA Assembly in 2007, but it hasn't made it through the CA Senate yet. Let's use the momentum from last year to ensure that the Crystal Golden Jefferson Furniture Safety and Fire Prevention Act is passed by the CA Senate and signed by the Governor into law this year.
We need your help to keep this moving forward.
Don't forget to sign on & tell friends to sign on:
http://momsrising.democracyinaction.org/o/1768/signUp.jsp?key=3081
After you sign on using the above link, we'll communicate your support to legislators and let you know about future opportunities to be heard on this issue. Thank you!
THE FIRE RETARDANT TOXICS LOWDOWN:
Recent tests have found that highly toxic fire retardant chemicals are present not only in furniture throughout California, but in baby products such as portable cribs, strollers, playpens, swings, nursing pillows, high chairs and changing table pads—items that infants and young children come into repeated intimate contact with on a daily basis. These products are required to meet California's flammability standard, Technical Bulletin 117 (TB 117).
This standard, which regulates all furniture products (including children's products), has led to the annual use of tens of millions of pounds of brominated and chlorinated fire retardants (BFRs and CFRs) in California since 1975.
Brominated and chlorinated fire retardants have been linked to endocrine disruption, neurological and developmental impairments, cancer, birth defects, learning disabilities such as attention deficit disorder and hyperactivity, and a host of other health disorders.1,2
Today, virtually every Californian tested has been found to have these fire retardants stored in their bodies, with babies showing the highest levels. High levels have also been found throughout the food chain, including breast milk, dairy products, meat, poultry, and fish. 3,4 AB706 seeks to modernize TB 117 through the use of safer chemicals and fire safety methods that not only protect human and environmental health from fire, but hazardous chemicals as well.
THE PROBLEM:
Toxic flame retardants threaten human health & the environment:
• Children are at greatest risk from exposure to brominated and chlorinated flame retardants.
In 1977, brominated Tris, which had been used to make children's sleepwear fire resistant, was banned after it was found to be carcinogenic in animal tests and to leach into children's bodies.5 Its replacement, chlorinated Tris, was also phased-out after it was found to be a mutagen, meaning it changed DNA. Today, chlorinated Tris is the second most-used fire retardant in furniture, and was recently cited by the Consumer Product Safety Commission to be "a likely carcinogen that could pose both cancer and non-cancer chronic health risks". 6
• Brominated fire retardants known as PBDEs have been found in breast milk, in humans and animals.
PBDEs have increased 40-fold in human breast milk since the 1970s. Women in North America on average have ten times the levels of women in Europe or Asia. Recent studies found that pet cats in the U.S. have very high levels of PBDEs in their blood. Researchers have identified an association between PBDEs and the spike of hyperthyroidism rates in cats which emerged after PBDE's began to be used in significant quantities in the consumer marketplace.7
• Growing rates of cancer in firefighters may be linked to fire retardant chemicals.
In November 2006, the Journal of Occupational and Environmental Medicine published an analysis of 32 studies that found fire fighters have increased rates of four types of cancer: multiple myeloma, non-Hodgkin's lymphoma, prostate, and testicular cancer, likely resulting from workplace exposure to carcinogens like dioxins and furans, which are formed when fire retardant chemicals burn. 8
THE SOLUTION:
Fire-safety without toxics--
• Equally safe fire retardants are already in use today.
Affordable, less-toxic flame retardants are already widely used to meet TB 133, a flammability standard for institutional furniture similar to TB 117. Alternatives include inherently flame resistant metals and woods, naturally fire-resistant fibers, and additives including melamine, boric acid, and phosphates.
• More fire-retardant chemicals doesn't mean fewer fire deaths.
An analysis of fire data from 1980 to 2002 by the National Fire Protection Association shows that the rate of reduction of fire deaths in California is similar to 7 other states that do not regulate furniture flammability. 9
• There is growing concern amongst legislators and regulators about BFRs and CFRs.
Eleven U.S. states, including California, have already banned two BFRs, penta and octaBDE, from use. Both Maine and Washington have furthered these efforts and recently banned an additional BFR called decaBDE. In December of 2007, the Consumer Product Safety Commission voted for a draft furniture flammability standard that will reduce the use of BFRs and CFRs nationwide. CPSC Commissioner Thomas Moore concluded that "No one wants to trade fire risks for chemical toxicity risks." 10
***AB706: Smarter Regulation = More Safety***
AB 706 - The Crystal Golden Jefferson Furniture Safety and Fire Prevention Act will:
• Protect the health of future generations by banning toxic brominated and chlorinated chemicals from products that come in direct contact with our families;
• Reduce workplace exposure to toxic chemicals for furniture industry workers and fire fighters;
• Provide the furniture industry with more fire safety options to create affordable and less toxic products;
• Create opportunities for green chemistry innovation.
• Increase fines on cheap imports that violate California's fire safety regulations.
SUPPORTERS
• Bluewater Network/Friends of the Earth (co-sponsor)
• MOMS - Making Our Milk Safe (co-sponsor)
• AFL-CIO
• Alicia Ann Ruch Burn Foundation
• As You Sow Foundation
• Breast Cancer Fund
• Breast Cancer Action
• California Furniture Manufacturers Association
• California Professional Fire Fighters
• California State Firefighters
• Center for Environmental Health
• Coalition For A Safe Environment
• Consumer Attorneys of California
• Commonweal
• Consumer Federation of California
• Environmental Working Group
• Episcopal Diocese of California
• Firefighters Burn Institute
• Firefighters Cancer Support Network
• Healthy Children Organizing Project
• MomsRising.org
• Natural Resources Defense Council
• The Ocean Conservancy
• Oceana
• Physicians for Social Responsibility
• Planning and Conservation League
• Sacramento Area Fire Fighters Local 522
• San Francisco Fire Fighters Local 798
• San Francisco Fire Marshal
• Sierra Club
• Silicon Valley Toxics Coalition
• The Trauma Foundation
NOTES & REFERENCES
1 Health effects of PBDEs: Viberg, H.; Fredriksson, A.; Jakobsson, E.; Orn, U.; Eriksson, P., Neurobehavioral derangements in adult mice receiving decabrominated diphenyl ether (PBDE 209) during a defined period of neonatal brain development. Toxicological Sciences 2003, 76, (1), 112-120.
2 Risks to children's health: P. Grandjean, P.J. Landrigan, Developmental Neurotoxicity of Industrial Chemicals. The Lancet, 368. (16 December 2006); Susan L. Schantz, John J. Widholm, Deborah C. Rice, Effects of PCB Exposure on Neuropsychological Function in Children. Environmental Health Perspectives. 111(3) pp357-576 (March 2003)
3 Flame retardants in mother's milk: Lunder S, Sharp R. 2003. Mothers' Milk: Record levels of toxic fire retardants found in American mothers' breast milk. Environmental Working Group. www.ewg.org/reports/mothersmilk/
4 Bioaccumulation: Tomy, G. T.; Palace, V. P.; Halldorson, T.; Braekevelt, E.; Danell, R.; Wautier, K.; Evans, B.; Brinkworth, L.; Fisk, A. T., Bioaccumulation, biotransformation, and biochemical effects of brominated diphenyl ethers in juvenile lake trout (Salvelinus namaycush). Environmental Science & Technology 2004, 38, (5), 1496-1504.
5 Tris as mutagen: A. Blum and B.N. Ames (1977), Flame Retardant Additives as Possible Cancer Hazards: The main flame retardant in children's pajamas is a mutagen and should not be used. Science 195, 17.
6 Regulatory Alternatives to Address the Flammability of Upholstered Furniture: D. Ray & CPSC staff (2007), Briefing Package
http://www.cpsc.gov/library/foia/foia08/brief/briefing.html, pg. 18
7 Flame retardants in animals: PET CATS IN THE U.S. HAVE HIGH POLYBROMINATED DIPHENYL ETHER (PBDE) SERUM LEVELS.J.A. Dye, M. Venier, C.R. Ward, L.Y. Zhu, R.A. Hites, L.S. Birnbaum Society of Toxicology2007 Annual meeting Abstract number 853
8 Cancer risk among fire fighters: LeMasters GK, et al, December 2006, Cancer risk among firefighters: a review and meta-analysis of 32 studies, J. Occup. Environ Med. 2006 Nov; 48(11): 1189-202.
9 California fire deaths compared to other states: National Fire Protection Association, Fire Death Rates By State, http://www.nfpa.org/assets/files/pdf/statebystatechart.pdf.
10 Statement of the Honorable Thomas H. Moore: (2007) On the Regulatory
Alternatives to Address the Flammability of Upholstered Furniture, http://www.cpsc.gov/pr/moore122707.html
For more information, contact: Russell Long, Friends of the Earth, (415) 544-0790, x 18, or Mary Brune, Making Our Milk Safe (MOMS), (510) 912-8433