The Power of ONEsie!
Imagine a beautifully presented long chain of decorated baby onesies stretching all around your state capital as a visual representation of the real people who need the policies being debated inside the imposing buildings. Each onesie signifies one person--mother, father, child, grandmother, grandfather, aunt, uncle, or other--who cares deeply about building a family-friendly America, but can't take the time off work, or away from kids, to actually be at the capital. You.
Help build the ONEsie Chain to show the real people behind the policies (Two ways to help in the text below!):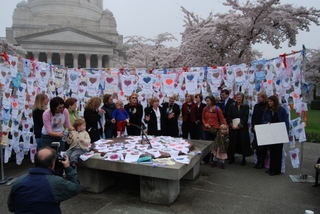 *Pictured above is the first Power of ONEsie display in Washington State where MomsRising members helped pass Paid Family Leave this year.
See more pictures at our onesie photo gallery
MomsRising would like to thank Essential Whites Co. for their generous onesie donations!
HERE ARE THE TWO WAYS YOU CAN HELP:
1- CRAFTY OPTION:
a) Get a new or used baby onesie (or a small kids t-shirt) and make it your own by decorating it with fabric paint, markers, or even rhinestones! We invite you to add catchy slogans ("Paid Family Leave or Bust") or your hopes for the future.
b) After you've decorated your onesie, then... pop it in the mail to us! Email katie@momsrising.org for a mailing address!
c) (optional) Hold a party! If you like, you can get together with friends and have a ONEsie Party to decorate! Or decorate your ONEsie with your children, at play groups, with book clubs, or even while you're waiting for sports practice to end. *Please email us at party@momsrising.org, with the Subject line "Power of ONEsie," and tell us if you are doing this in a group so we can tell the press and keep track.
2- NON-CRAFTY OPTION:
You can buy a ONEsie from MomsRising online with one easy click, and we'll decorate it for you and add it to the Power of ONEsie project.
*Click here to buy your ONEsie to add to the Power of ONEsie project: http://momsrising.democracyinaction.org/dia/organizations/momsrising/shop/custom.jsp?donate_page_KEY=2305
Please invite your friends to participate in this effort by forwarding this web page link to them. Working together, we amplify our voices!
THE PLAN: Our goal is to display the Power of ONEsie project in "hot spots" around the country like New Hampshire at the Presidential debates, as well as in other states where the display can spark important conversations and remind our leaders that mothers and families are going to be visible participants calling for policies and programs that reflect the needs in our lives. We'll continue adding to the project as people continue donating onesies in the coming months and years. Think Guinness Book of World Records!
One by ONEsie, working together, we can show the nation that we are a creative and powerful force for good family policy, as well as help our politicians to pay attention to issues which have long been ignored.
Look at the beautiful ONEsies that have been submitted already at our gallery of onesie!