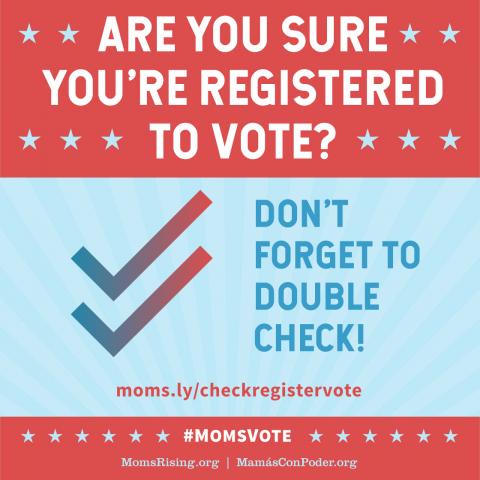 You're smart, not paranoid, to check your voter registration
Recently, I decided to do something I hadn't done before. After seeing a post from a friend on Facebook that stated the person was unable to find her name on the voter registration database, I jumped on the Florida Department of State voter page to do a quick search, certain that I would find my name and go about my business.
I was wrong. This is the message I saw:
I cannot tell you how I felt at that moment. It was a mixture of disbelief and fear. Though I am aware that the Supreme Court ruled that states can purge voters who failed to vote for a period of time and did not confirm residency, that was not my case.
After trying several times, I finally got a confirmation that I was registered. But, it has not settled my mind.
As a naturalized citizen, I take the privilege of voting seriously. I have voted in every major election since my naturalization. It never occurred to me that I had to recheck my registration. And maybe that hasn't occurred to you either.
But it needs to! Double check your registration now! If you aren't registered, start the process right away.
I was hoping that this was an isolated incident, but then we got word from a MomsRising member who has been canvassing in her area and finding people with missing voter registrations. Peggy sent us a message asking us to encourage everyone to double check your registration and your mailing address (If you've moved, don't forget to update your address. If you changed your name, don't forget to update this too.).
Upon returning to work that week, I also heard that my colleague, Linda, had a similar experience as mine. After seeing my post, she checked her registration only to find that her current address was missing from the voter registration information. She has lived in North Carolina for years and has never experienced this before.
Linda found her information was back to "normal" the next morning. After trying to check my registration from my phone and my desktop, I was finally able to see a confirmation message for my voter registration being in the system.
To be honest, I'm still planning on calling and confirming prior to the deadline for registering to vote in my state's primary election.
I realized then that sending out reminders for people to check voter registration is going to be just as important as spreading the word to get people registered this year.
Help us spread the word! Check your voter registration and ask your friends to do the same.
If it feels as if this is an important voting year, it's because it is. With Supreme Court Justice seats needing confirmation, families being separated and detained, and important legislation that will inform the trajectory of this country for years to come, there is a lot of work ahead of us and it cannot be done unless we get out the vote like never before.
We're making it super easy for you to double check. Click here for a quick registration check. And be sure to confirm that your information (including your address and name) is correct. If not, take a moment to update that. If you're not registered, you'll be walked through on how to register. It's quick and painless.
More importantly, it'll ensure that your voice is primed and ready for the 2018 elections and beyond. See you at the polls!
Together, we will be a registered force for families in this country!