Join Us!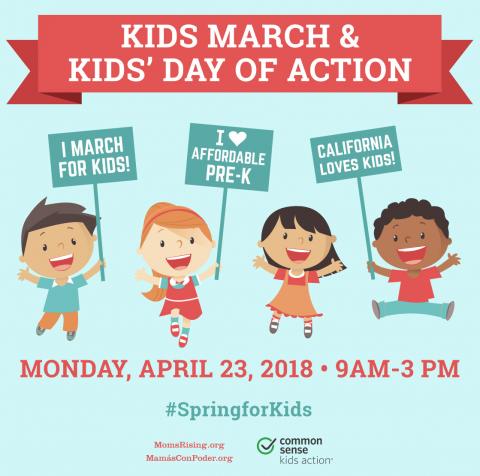 You're Invited to a Family Friendly Day of Action in Sacramento!
Have you been looking for a way to raise your voice for kids and families, and introduce your kiddos to activism, advocacy, and being a force for change?
Well, save the date of Monday, April 23rd because you're officially invited to a fun--and free!-- day of action with MomsRising and Common Sense Kids Action.  
Our day of action in Sacramento will include talking to our state elected officials about a handful of kid focused issues including early learning, preschool, and childcare -- and we'll march on behalf of any issue we're passionate about!
When they go low, we go local! RSVP to join MomsRising and Common Sense Kids Action for a Kids' Day of Action and Kids March in Sacramento on April 23rd! 
What: Kids March and Kids' Day of Action with MomsRising and Common Sense Kids Action!
When: Monday, April 23rd, 2018
9:00am - Registration & light breakfast (and crafts for kids), followed by a kids march around the Capitol, a rally, and lunch. We'll finish the day by walking the Capitol halls to share our voices and stories with Legislators. (Please join us even if you think you'll have to leave early- you can come for any or all of it!)
Where: California State Capitol, Sacramento, CA
Who: YOU! And any of your friends and family- all are welcome and encouraged to join!
>>> Please bring your kiddos of all ages for this valuable hands-on learning experience! Light breakfast, lunch, and fun kid crafts are all included and free.
Why are we marching, rallying, and walking the halls?
Because we want to remind our decision makers that kids are a force for change in California!
Never walked the Capitol halls before? No worries! No experience, other than caring about kids and the issues important to them, is necessary! We'll do all the prep work and tell you everything you need to know to raise your voice and educate decision makers here in Sacramento.
Say you'll join us –– RSVP HERE!
*** Can't make it? Don't worry — you can still help make this day of action a big success! Share the RSVP link with your friends and family in the Sacramento area: https://action.momsrising.org/survey/2018_Advocacy_Day-Sacramento/
Together, we're a powerful force for kids and families in California.