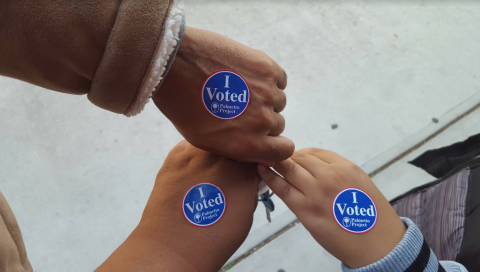 Your Voting Rights: What To Know If You're Facing Conviction
Voting is an essential function in a healthy democracy. But in the United States, voting isn't as easy as it should be. Registering to vote can itself be enough of a barrier to prevent people from exercising this fundamental right. 
There are hurdles to registering that millions of us face, like when we change names -- as many people do when they get married, divorced, or for a variety of reasons -- or change address. Voter registrations aren't always automatically updated, and that means when Election Day comes, people who think they are properly registered and ready to vote could be turned away at the polls (if this happens to you, ask to submit a provisional ballot!).
People with felony convictions face additional hurdles, or outright disenfranchisement. As the ACLU says, "A patchwork of state felony disenfranchisement laws, varying in severity from state to state, prevent approximately 5.85 million Americans with felony (and in several states misdemeanor) convictions from voting. Confusion about and misapplication of these laws de facto disenfranchise countless other Americans." 
No one should be stripped of their personhood and their right to vote. Parents and others caring for those who cannot vote especially need to make their voices heard in our legislative process. Support for children's programs like HeadStart and school food can depend greatly upon our elected representatives. Well over half of all people in prison are parents with children under age 18. They should be able to vote and have a voice on the programs that affect their children-- and yet, in many states, these parents cannot vote.
Are you or a loved one unsure about your voting status because of a prior felony conviction? You are not alone! We've collected information in this post to help you understand your voting rights.
To start, below is a quick summary on voting rights and felony convictions via the National Conference of State Legislatures:
"In Maine and Vermont, felons never lose their right to vote, even while they are incarcerated.
"In 14 states and the District of Columbia, felons lose their voting rights only while incarcerated, and receive automatic restoration upon release. (The 14 states are HI, IL, IN, MD*, MA, MI, MT, NH, ND, OH, OR, PA, RI, UT. *In Maryland, convictions for buying or selling votes can only be restored through pardon.)
"In 21 states, felons lose their voting rights during incarceration, and for a period of time after, typically while on parole and/or probation. Voting rights are automatically restored after this time period. Former felons may also have to pay any outstanding fines, fees or restitution before their rights are restored as well. (The 21 states are AK, AR, CA*, CO, CT, GA, ID, KS, LA, MN, MO, NJ, NM, NY**, NC, OK, SC, SD, TX, WA, WV. *In 2016, California passed legislation allowing those in county jails to vote while incarcerated, but not those in state or federal prison. **New York Governor Andrew Cuomo issued an executive order removing the restriction on parolees voting. New York already allows those on probation to vote. The order may be challenged in court.)
"In 13 states, felons lose their voting rights indefinitely for some crimes, or require a governor's pardon in order for voting rights to be restored, or face an additional waiting period after completion of sentence (including parole and probation) before voting rights can be restored." (The 13 states are AL, AZ, DE, FL, IA, KY, MS, NE, NV, TN, VA, WI, WY)
And here's an update on the US prison strike, which included a demand for voting rights: https://www.theguardian.com/us-news/2018/sep/09/us-prison-strike-latest-demands-voting-rights 
Please share this with family, friends, and community members who need more information on how to make their voices heard this November 6, and in every election. And if you know someone who has overcome challenges in order to vote, please tell us about them in the comments!