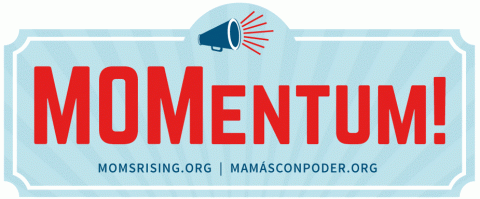 July has been HOT, and not just because of the temperature! MomsRising supporters have been celebrating our wins all month long, including major wins protecting immigrant families' rights; gaining Congressional support for better wages; and amplifying women's and mothers' voices in presidential debate coverage!
Read on for the good news on how you've supported this movement's MOMentum!
---
---
NO PROFITS FROM PAIN
You're persistent! MomsRising supporters like you keep fighting, and winning, important battles for women and families.
In no small part due to the leadership of MomsRising, and the pressure of MomsRising members like you and the 100 organizations who are part of the Families Belong Together Corporate Accountability Committee, BNP Paribas and Fifth Third announced they will no longer finance private prisons and detention centers. They become the 5th and 6th banks to end support for this industry, which has documented histories of human rights abuses and detains over 70 percent of immigrants in ICE custody.
Thank you for rising for immigrant justice.
---
DEBATE THIS!
Moms and families know the truth about dealing with our healthcare system, about the cost of childcare, about what it takes to raise a family.
We're putting our truth on center stage.
Thanks to YOUR support, MomsRising released The Mom Platform, a comprehensive, mom-powered (we're not kidding!) platform that we're hand-delivering to EVERY candidate for President. These are the policies moms and families expect candidates to champion!
Get your Debate Party BINGO cards and play BINGO with us in real time with us during the Democratic debates (Tuesday and Wednesday 9pm ET / 6pm PT)
Thank you for raising your voice and working to build a nation where everyone can thrive!
---
No worker should be paid unfair, poverty-level wages or suffer the economic insecurity that comes with them.
That's why, buoyed by donations from members like you, the MomsRising community mobilized support for the Raise the Wage Act, which hikes the federal minimum wage to $15 per hour. In July, it passed the U.S. House!
Congress last raised the minimum wage to $7.25 about a decade ago, so passage in the U.S. House is a great step forward. We still have a big hurdle advancing the bill through the U.S. Senate. Stay tuned!
---
| | |
| --- | --- |
| | MEDIA SPOTLIGHT |
Thousands to rally Friday amid reports of nationwide raids on undocumented migrants
The Philadelphia Inquirer, July 11, 2019
"Immigrant families across the country are living in fear of being separated due to the raids, mass arrests, and deportations President Trump is threatening. President Trump's immigration policies are cruel and racist, and must end now."
—  Kristin Rowe-Finkbeiner, MomsRising Executive Director
---
| | |
| --- | --- |
| | MEMBER LOVE |
Members share how MomsRising is a positive force in their lives
"I am a Cuban American working mom, and your mission really resonates with me — especially when it comes to immigration reform. I learned about you because I saw MomsRising at the protests against the abuse of migrant children, and then checked out the podcast."
— Monica
Tell us, what does MomsRising mean to you? Send your comments to anita@momsrising.org.