Take Action!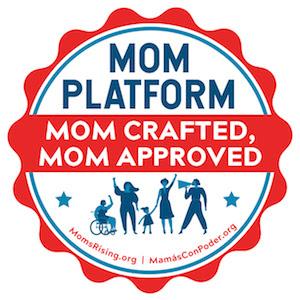 Your input needed! What issues should candidates prioritize?
You know. Moms know. I know. We all know what's happening in our families, our lives, and our communities. We know the truth about dealing with our healthcare system, about the cost of childcare, about what it takes to raise a family. The candidates for President need to know our truth too.
It's time to put our truth on center stage. There are dozens of candidates running for President — and it's critically important to let each of them know EARLY about the policies that moms expect them to champion. They need to know what issues moms, not just corporate lobbyists, prioritize. That's why we're creating a "Mom Platform: Mom Crafted, Mom Approved" policies platform that we'll be giving to every candidate for President. And by "Mom Crafted" we mean YOU!
*Take a moment to share what issues YOU think every Presidential candidate should prioritize as they run for office.
Here's the plan: In order to make sure every candidate for President hears the top priorities of real people, and not just orders from corporate lobbyists, we're doing a survey to find out YOUR priorities. Then, we'll deliver the Mom Platform to every candidate for President so they see the issues that moms prioritize early on in their campaigns.
To launch this effort, we need your quick help by filling out this form! (It'll only take 30 seconds!).
What do moms, dads, and working families care about most? Check off the top three issues on your personal list of priorities!
*Reminder: You taking 30 seconds now to fill out the survey now will have a big impact, because candidates need to hear from moms who live these issues every day.
So please also share this survey link on Facebook and Twitter and via email.
We need as many people as possible sharing their priorities with the Presidential candidates. The more of us who share the real priorities of moms and dads, the earlier every candidate for President can see what real moms and dads need in our nation!
Thank you for ALL you do!