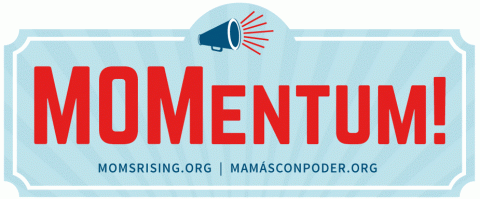 Your February MOMentum: Big win for paid family leave!
From attending the State of the Union address to speaking at the re-introduction of the FAMILY Act to testifying before Congress on the Paycheck Fairness Act, February has been full of MomsRising power! And not only at the federal level — moms are making the difference for economic justice legislation at the state level, too. And we're lifting up Black History Month across our platforms (check out our Instagram account especially!).
Read on to celebrate our February MOMentum!
Thank you!
- Anita
P.S. As always, we love to hear your feedback. What do you love about being a MomsRising supporter? What do you think we should tackle next? Send your thoughts to me, anita@momsrising.org.
NJ EXPANDS PAID LEAVE
Energized by your generosity, MomsRising advocates helped win important protections for New Jersey families this month when Gov. Phil Murphy signed off on legislation that expanded the state's paid family leave law.
The improved program:
Expands paid family leave from six weeks to 12
Increases benefits from two-thirds of a parent's pay to 85 percent
Opens the program to those who work for smaller employers
Strengthens public awareness programs
Together, we are rising to give more and more workers time to care for our loved ones when they need us most!
NATIONAL PAID LEAVE BILL RE-INTRODUCED
MomsRising Senior Campaign Director Karen Showalter (center) urges passage of re-introduced Family and Medical Insurance Leave (FAMILY) Act, co-sponsored by Sen. Kirsten Gillibrand (left), and Reps. Rosa DeLauro and Danny Davis.
MomsRising members like you have built undeniable MOMentum for paid family and medical leave. We're going to keep rising until this important protection is available to all workers, and are incredibly proud to supporting re-introduction of the national FAMILY (Family and Medical Insurance Leave) Act.
The FAMILY Act is the only paid leave proposal to cover all workers, address the range of caregiving needs families face, and be affordable for taxpayers and businesses alike.
Your gifts made this important progress possible, and will help us #KeepMarching to press for final passage of the bill. Thank you!
Read our full statement on the FAMILY Act here.
FIGHTING FOR EQUAL PAY
With your support, MomsRising is bringing the stories of women and moms directly to the halls of power and changing our Congressional leaders' national dialogue on issues that are critically important to America's women and families.
Earlier this month, the MomsRising community became part of the official Congressional record on equal pay! Pictured above is MomsRising CEO/Executive Director Kristin Rowe-Finkbeiner testifying on the Paycheck Fairness Act at a joint hearing before the House Subcommittee on Civil Rights and Human Services and the House Subcommittee on Workforce Protections. Among her remarks:
"It's time for women to be able to join together, to be able to share information, and to demand that current pay not be set by past pay, without fear of retaliation. It's time to pass the Paycheck Fairness Act. America needs it!"
Read Kristin's full remarks on the Paycheck Fairness Act here.
MEDIA SPOTLIGHT
Black Mamas Matter
Ms. Magazine, Winter 2019
"The ability to protect the health of mothers and babies in childbirth is a basic measure of a society's development," wrote Smita Nadia Hussain of the advocacy group MomsRising in her testimony before the U.S. House...
Hussain and other advocates ... testified in support of the Preventing Maternal Deaths Act, which passed in December 2018 in the House with bipartisan support. The following day, a companion bill, the Maternal Health Accountability Act, was approved by the Senate. This legislation, said Monifa Bandele of MomsRising, "treat[s] maternal mortality as the national emergency that it is."
MEMBER LOVE
Members share how MomsRising is a positive force in their lives
"I desperately want to help you help families separated at the border. Quality childcare is a desperate ongoing need still as ghastly as when I had my son in 1971. Thanks for all you do to help.
May the force be with you!"
— Betsy
Tell us, what does MomsRising mean to you? Send your comments to anita@momsrising.org.