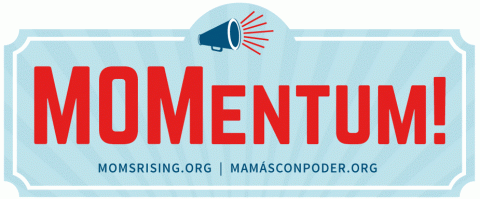 MATERNAL JUSTICE
Kira Johnson, pictured above with her husband and son, needlessly lost her life to medical neglect after childbirth.
After years of advocacy — powered by YOUR generosity — the MomsRising community and partners finally got Congress to treat maternal mortality as the national emergency it is. Earlier this December, just one day after the U.S. House passed the Preventing Maternal Deaths Act, the U.S. Senate passed the companion bill, the Maternal Health Accountability Act. And the President has now signed the bill into law.
This legislation will have a profound impact, addressing the factors that lead to the deaths of so many mothers and the stubborn racial disparities that continue to plague our health care system.
This is your power in action! Thank you for standing up for the health of pregnant women and moms.
---
BAN ON BUMP STOCKS
At last, bump stock bans for guns are moving forward at the federal level. Your generosity turbo boosted our intense advocacy campaign for the ban, and will continue to power our campaign for meaningful gun safety measures, including amping up pressure to limit military-style assault weapons and high-capacity magazines.
---
| | |
| --- | --- |
| | MEDIA SPOTLIGHT |
'An amazing first step': Advocates hail Congress's maternal mortality prevention bill
Dec. 19, 2018, NBC News
"I'm really hoping this will lead to more legislation. There needs to be training for hospitals and every single health care provider that comes into contact with pregnant women in implicit and explicit bias."
— Monifa Bandele, Senior Vice President, MomsRising
---
| | |
| --- | --- |
| | MEMBER LOVE |
Members share how MomsRising is a positive force in their lives
"When I began thinking of organizations to donate to, MomsRising came to mind for all the hard work of getting out the mom vote this election year. I love seeing the MamásconPoder tweets and how you are really reaching out authentically to the Latinx community. And good news -- I just got elected to the local school board! I'll be sworn in in mid-December. Excited to begin the journey of an elected official. Thanks for all that you do!"
— Cherise
"I wanted to send a note anyway to say how meaningful it was for me to participate in MomsRising's postcard campaign. Thank you for an opportunity to DO something, to encourage, and to engage peers in our democratic process...Please know that you are making a difference in the lives of not only those who receive postcards or phone calls but those of us who really needed a sense of agency to make a difference. Thank you! You are appreciated."
— Sara Beth
Tell us, what does MomsRising means to you? Send your comments to anita@momsrising.org.
---
| | |
| --- | --- |
| | COMING SOON |
Jan. 19 | Nationwide, Women's March
The 3rd Annual Women's March is happening in cities all across the country on January 19th. We're stepping into our power, marching forward, and welcoming into leadership more women than ever before, including a record number of women into the U.S. House of Representatives. In November of this year, we organized and showed up at polls across the country in record numbers to make our voices heard! Now let's march in record numbers again. The Women's March on January 19, 2019 presents another opportunity to demonstrate our power and unity, and to build momentum into the future!