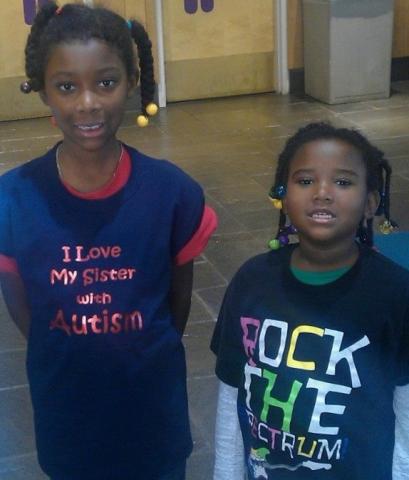 "your daughter ... Autism"
"Ms. Cooke, the team has concluded its assessments and observations and we have come to the conclusion that your daughter NaVia fits the criteria for our exception needs program as a child with Autism." 
At least that's what I think they said. All I remember that late spring day in 2011 was "your daughter...Autism".
How did I miss this? Me, a veteran educator, Master's degree, National Board Certified, and more importantly currently a teacher of students with Autism. But I completely missed my own daughter's obvious place on the spectrum. 
Let's go back even further. June 2007, I gave birthday to a healthy and happy beautiful doll. Normal pregnancy and birth. She took her sweet time entering the world (sign of things to come, I believe), yet and still, it was the happiest moment of my life. Tied with the birth of her older sister.
2009-10, at 2, an age when most kids are potty trained, starting to socialize, and communicate, my daughter was not. NaVia preferred staying to herself while siting in a bath tub and talked gibberish. She only ate hot dogs and drank milk. At her birthday parties she does not want us to sing happy birthday out loud so we have to whisper it. 
When we visit family and friends homes, NaVia goes directly to a corner in a room where no one is. I use to be amused by this because some homes she'd never been in but she always seemed to find a quiet spot in a room alone.  She had a quick temper and threw things ALL the time. It was so hard to understand why all these things were going on so, her father and I decided she needed to be around other kids her age. We knew she'd likely need some speech therapy but that was only the beginning. 
At daycare, she wouldn't eat the food. She hid under her desk. She wouldn't leave the play area with the kitchen. One day her teacher sent home a note saying "I can't work with other kids because she is so demanding and I don't understand why." The teacher even videotaped a meltdown and emailed it to me adding the subject: See what I mean!
No she didn't! Wasn't it her job to figure out why she was crying. Na'Via was supposed to be counting and sorting objects but instead she was counting in patterns and backwards and even sorted in categories the teacher didn't expect for a 4 year old. Instead of celebrating this she attempted to send her back to her seat. My daughter refused to go and cried uncontrollably. Once I saw the video I immediately left to pick up my child and informed the director of the daycare she'd never see her again and she'd better hope I didn't sue them for the ridiculous email. 
That night I cried after putting NaVia to sleep and asked her for forgiveness. I felt horrible. How could I have not seen she needed me to stand up for her? Even if I didn't know what was going on, as her mother I was supposed to be there for her and protect her. I was so busy advocating for and educating my students with Autism I just assumed my daughter was doing normal things. This was just second born child behavior or after reading The Explosive Child by Ross Greene "she just needed help expressing herself". Boy was I off. 
Fast forward to 2012, after diagnoses and making some serious changes NaVia began therapy and was placed in a specialized classroom to prepare her for school. Ms. Lisa was her new teacher and like some of my student's parents I hesitated. Who is this woman and how do I know she will take care of my baby the 6.5 hours a day?
Well, the miracle had arrived! Once all of her therapies started to kick in and that mixed up with an amazing teacher and supportive family members, Na'Via began to flourish.
Four years later, she is a happy and healthy third grader. She plays baseball, loves her mini doll figurines, and tacos. We have tacos at least 5 nights a week. She's pretty picky with her food but it could be worse. She sticks to her daily routine and has her schedule the way she likes it. Be ready if you attempt to change it. 
We still have a long way to go. She fights like a champion when it's time to wash her hair, hates when there's a substitute teacher, or if her tablet isn't working. We are improving our eating habits and getting more exercise in order to regulate health. 
Her social and emotional health is higher on my priority list then academics, really. I want her to be able to function in a society where there are so many disappointments. Some of them are an unfortunate part of life. For example, when her father and I divorced she was heartbroken but bounced right back. Others aren't that easy because they are simply unnecessary and so damn hard to explain. Like, "Why did some bad people shoot up a church?" She didn't understand and asked was it safe for us to continue to go to church. I want her to be brave and strong but also know it's ok to cry and mourn when her heart hurts. Her social and emotional health are just as vital. I want her to have the courage to stand up and advocate for herself as we'll as for others one day. The best way I can teach her that is by example. She loves going to the MomsRising rallies. She gets excited to see all the moms in black and their kids. She feels at home. So do I.
The blessing of raising this beautiful child as a single mom is not always easy. She and her sister always come first. I have had some ground shaking experiences financially and socially. I'm a teacher in one of the worst states for educator compensation so I can't always afford therapy or a trip specifically for children with Autism.  The saddest part is watching her tears fall. 
So, what's next? I have no idea. School starts to really get serious now. How will she respond? The possibility of her parents getting married to someone else is another undeniable event headed her way. Whatever it is, she's got her momma. I will never again leave her future in the hands of others. Because the next time she cries, walking away is not an option. Standing up, speaking out, shouting, making phone calls to my senators and representatives to improve medical care for her, do something about gun safety, and provide funding for better schools is a part of my every day mom to do list now. Right beside make the tacos.