Young People (All of Them) Deserve Options
Every morning on my way to work, I would watch young children eat flaming hot chips with what looked to be 3 day old gray hamburger meat, topped with cheese that looked to be made of plastic.   This was their breakfast.  There may have been some honey buns and other items, but nothing looked to have any semblance of nourishment.  Every morning I would watch the youth in my community eat toxins for breakfast and every morning it would break my heart to watch. Something about this just wasn't fair.  I started talking to the corner store owners about offering healthier options because after all, our environment dictates our options.  My pleas were to no avail.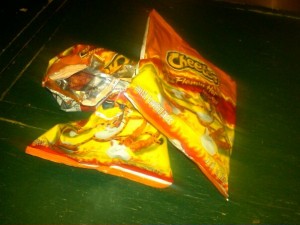 Fast forward five years later.  After working on and advising projects helping to create healthier options in communities throughout the country, I return home to find Chicago rich with initiatives addressing unhealthful environments, promoting self determination and creating healthier options for communities that have been marginalized (such as mine).  Although many use the term "food deserts," I've found grocer redlining to be a more accurate term.  According to one of our supporters, "you're sooner to find a gun in our community than a piece of fruit.  That's a problem."  The reality is that grocers (and other resources) have actively discriminated against low income communities of color.  The children in my former neighborhood lived in a redlined community, rendering them very few choices.  Given over 400,000 people in Chicago reportedly live in areas that have been redlined (predominantly African American communities), a project that I work on, Fresh Moves Mobile Produce Market, was born to address the inequities.  A converted CTA (Chicago Transit Authority) bus turned mobile grocery store now sells fresh, high quality, affordable fruits and vegetables to customers, children, families, moms, fathers, and grandparents all throughout the Westside of Chicago.
When young people can't get healthy options from their schools, stores, communities, they can now get it from us.  The success has been phenomenal and young people are our number one customers.  We serve 4-5 schools per week and spend time with hundreds of young people throughout the week.  We now sell $.50 bags of grapes and our apples, bananas, carrots, etc. are affordably priced so that young people can buy fresh produce for the same price as junk food.  What we have found: given the choice, young people can make very wise decisions.  Often times they ask us if we carry candy and we respond that we have healthy candy that is just as sweet.  They then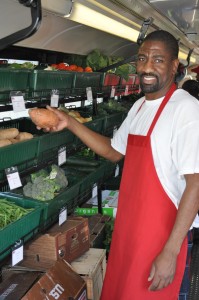 make a decision to spend their money on the healthy candy (grapes) and many now actively choose to avoid the junk at the corner store.
Teachers at some of our schools have started to distribute "Fresh Moves Rewards Tickets" as a reward instead of candy.  As a reward, students are able to shop on the Fresh Moves bus for fruits and veggies and the conditioning of our children is shifted from candy as a reward, to healthful produce.  And the young people are more than happy to come and redeem their goods!  Additionally, we've taken over the candy room at one of our schools and they've created "health days" where no junk food is allowed in the school on certain days (which is very significant).  The young people are very supportive and very actively engaged.  Sometimes, we exchange junk food for healthy food, if young people don't have the money to purchase produce from us.  They watch in awe as we dispose of the junk in the trash.  But they willingly give it up in exchange for a healthier option.  Who can deny a fresh, delicious, juicy, sweet peach, plum or nectarine?
It's exciting to see how we are able to provide a significant amount of young people a good alternative… a choice.  Overwhelmingly, particularly in redlined communities, too many children don't have the choice to eat healthy.  Those children grow into adults with limited choices (and taste buds that have been constructed).  It's critical that we do all we can to change the school, community, home environments so that young people have the options to nourish their bodies with all of the nutrients they need to thrive.  It's their right.  And it turns out that parents across the nation agree.  A just released poll shows that eighty percent of American voters favor national nutrition standards that would limit calories, fat and sodium in snack and à la carte foods sold in U.S. schools and encourage the consumption of fruits, vegetables and low-fat dairy items.  Our policies must reflect a change towards nurturing healthful diets everywhere and limit the amount of unhealthful snacks, food, and sugary drinks that saturate our communities.
Dara Cooper works at Fresh Moves as the Sr. Manager leading a team selling and promoting fresh fruits and vegetables at schools, clinics, corners, senior homes and even corner stores throughout Chicago's westside communities. Recently Dara traveled to Uganda as a part of a fellowship exchange for professionals and activists working on creating a just food system in the US and in East Africa.   She also leads a series of workshop on healthy eating, deconstructing traditional African American foodways and food justice throughout Chicago, currently focusing on Chicago's west side communities.