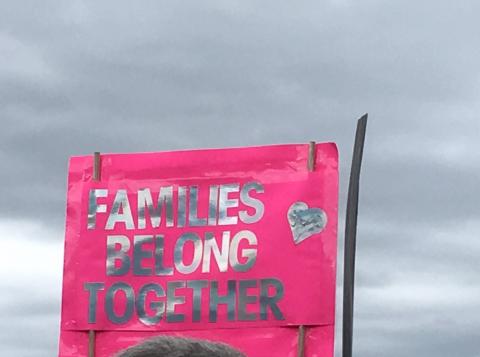 You Marched: What's Next?
Over the last year and a half we have seen this Administration create and implement cruel and relentless policies in pursuit of their vehemently anti-immigrant agenda--the latest installment being the forcible separation of thousands of children from their parents. Under immense public criticism, President Trump reversed course with the executive order ending family separation, but the order provided no plan for the reunification of families, continued the inhumane practice of family imprisonment, and did not end the zero tolerance enforcement policy which created the crisis to begin with. 
Last week, hundreds of thousands of people took to the streets nationwide to stand up and speak out against these shameful policies and to demand action to stop them. At the march last Thursday in Washington, DC, there was a t-shirt that read, "Breastfeeding babies belong with their mothers." The fact that this needs to be on a shirt at all shatters the heart.
Action begets action. If you marched this past weekend, or supported those who did, we must keep up the momentum. With members of Congress being home for the Independence Day break and then next month in August, we can use the opportunity to tell them there is something they can do to protect immigrants and their families:
All of what is listed above is part of the larger effort to dismantle the political wall this Administration is building to harm immigrants and their families.  As we approach Independence Day, we should continue our efforts to educate and persuade decision makers that we will not accept an Administration that divides us, and we support humane immigration policies that support the right to life, liberty and the pursuit of happiness. 
*Yein Pyo from the Asian Pacific Institute on Gender-based Violence contributed to this article.