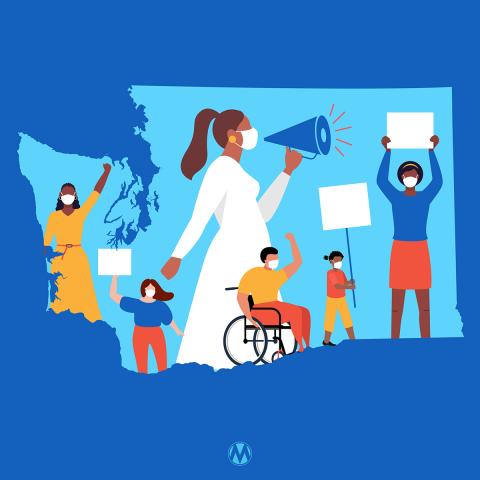 You got out the vote, now we need you to ACT! Sign our petition letting our lawmakers know what we care about!
Moms and women turned out in force in this last election, now let's use that same energy to turn up and turn out for Washington State's upcoming legislative session. 
Let's let our lawmakers know what matters to us!
WHAT'S HAPPENING IN OLYMPIA? 
The 2023 Washington State legislative session begins in January and we have the opportunity to influence how our state's resources are spent over the next two years. What comes first? Governor Inslee will release his proposed budget in December. Then it's on the State Legislature to negotiate and pass a two-year, balanced budget. 
That's why it's critical that lawmakers are hearing from us *right now*. Click here to sign our petition urging lawmakers to fight for:
EARLY LEARNING: Fully fund the Fair Start for Kids Act, including expansions slated for 2023 that will require additional funding. Honor and value the work of early childhood educators and caregivers with state-funded compensation, including benefits, for providers across the childcare community.
 
GETTING CASH TO FAMILIES WITH THE WFTC & GBI: Make the newly launched WFTC more accessible to families with administrative changes and get more cash to families and communities with an expanded credit and a GBI pilot.
 
PAID FAMILY AND MEDICAL LEAVE: Strengthen Washington's paid leave program with new resources for community outreach, multilingual application processes, and new financial management practices to ensure the future of the program.
 
UNEMPLOYMENT INSURANCE FOR CAREGIVERS: Fix outdated unemployment insurance laws that penalize working parents who lose their jobs because they lost child care.
 
TAX JUSTICE: Pass a first-of-its-kind wealth tax on Washington's wealthiest families to generate new resources that can fund community needs like early learning, K-12, health care affordability, and more.
As we continue to navigate the COVID-19 pandemic, let's work to strengthen Washington State's care infrastructure to ensure it's at its best for Washington families who are struggling. After years of advocacy, mobilizing, and organizing from mothers and caregivers, our state has one of the most robust care infrastructures in the nation, but it's not perfect. We need to make sure as many families, caregivers, and mothers can access the benefits our state provides AND we need to ensure the financial longevity of our state's care infrastructure.
Let's come together and make our state's care infrastructure the best it can be by making sure Governor Inslee's budget aligns with our state's values!
WHAT'S AT STAKE?
Inflation is hitting our family budgets, but it's hitting the state budget too. And with a recession looming, lawmakers will be making tough choices in the state budget. Now is the time to recession-proof our state budget! The state that is home to Microsoft, Amazon, Costco, and more, has enough wealth to fund basic needs like childcare, K-12 education, special education services, and other necessary programs. Urge lawmakers to recession-proof our state budget with new, progressive revenue and investments in the programs and services families count on!
WHAT NOW?
Here's what we CAN do. We can lean on one another, let our voices be heard, advocate for greater representation from our community at the policy table, and make sure our lawmakers know what our communities need! Take action now!
If you are free on December 10th from 11am-12:30pm PT, we encourage you to join us at our 2022 Rest and Recharge Legislative Town Hall which will be filled with community, advocacy, conversation, and centering our needs as caregivers in advocacy! You can RSVP here!
Thank you for being such an important part of the MomsRising community. We're in this together!