Give Today!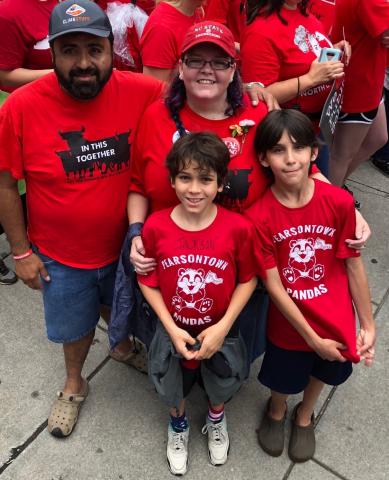 DEC. 19 CAMPAIGN UPDATE
GOAL: $50,000
RAISED: $21,204.55
STATUS: 42% of goal achieved
13 days left to raise $28,795.45
"My name is Denise. I'm a Mom."
Eight years ago, much to my surprise, I said those words at a town hall meeting and got a standing ovation.
A MomsRising staff member had asked me to speak there about the importance of preschool funding to me and my family. I had no time to prepare, and no babysitter for my 4-year-old twin boys, both of whom have special needs. So the boys came with me.
Everyone who spoke before me had a fancy job title and spreadsheets. I just had me.
When the applause died down, my son yelled, "HI MOM!"
It was an epiphany. I realized that I had power. That being a mom gave me the authority to speak up. And that my voice mattered.
MomsRising helped me find my power and use it to stand up for what is right and decent and fair. And when you donate to MomsRising, you ignite this power in moms (and everyone who loves them) all across the country. Will you help me and MomsRising protect women and families in America with a contribution today?
One thing that sets MomsRising apart is the fact that kids are always welcome. When I attend a MomsRising event, my kids are right there with me, raising their voices for what they believe in.
Like gun safety.
This spring, my son Jack gave a speech at a gun-reform rally and said this:
"I understand that some of you might find it uncomfortable that a little kid like me is talking about gun control...Uncomfortable is having to hide in a bathroom with my classmates being afraid that lockdown is not a drill...We are just kids, so they say we can't vote. But if we are old enough to practice lockdown drills, we are old enough to demand change."
Jack had the courage to do this because he's been practicing advocacy with me and the MomsRising community, not just reading about it in a book. This is one of the most important lessons I can give my kids, and something that MomsRising helps me and thousands of people do every day.
And I've learned that when MORE of us moms demand change, we get it.
The power of the mamma is real, and we need to turn it WAY up to get the America we know is possible. Will you join me in powering up moms and making America a better place for all of us?
Thank you for listening and for your kindness and generosity today. #KeepMarching, friends!
With love,
Denise Zavaleta
Mom, wife, and MomsRising volunteer
P.S. If you give by Dec. 31, your gift will be DOUBLED by another donor! Plus, contribute $50 or more and MomsRising will send you the KEEP MARCHING book — described as the "perfect primer for women everywhere who want to take action." Thank you for all you do!