You and four friends: NOW is the time to help make sure everyone's registered!
Large groups gathering in Iowa in the early morning hours?  People camping out in Ohio before the doors open?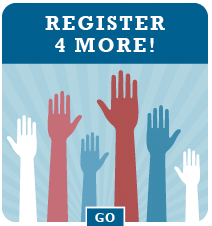 Click here to help register 4 more!
It's starting!  Early voting has begun: In Iowa, voters have been able to vote since last week.  And when I flipped on the radio this morning, I heard that early voting begins today in Ohio.  In fact – some folks in Ohio even camped out Monday night so that they could be first in line to vote today.
I'm excited about this – but I'm not going to lie, I'm also a little anxious too! My friends, family, and neighbors are all talking about voting on November 6th, but will they be able to vote? The news about early voting starting already makes me jump up and shout:
"Wait! Is everybody registered to vote?"
*What about your friends? Click here to send a quick note to up to 4 friends to help them make sure they can vote this election:
http://action.momsrising.org/signup/2012-Register/
Polls are showing that a high voter turnout is expected for the November 6th election. Your friends, family, and community are planning to vote.  Now it's time to make sure that everyone who has the right to vote, can vote.  And the first step is making sure all of our friends and family are registered to vote.
Even if you think your friends are registered to vote, there are many reasons that voter registration records may need to be updated: Have they moved recently, or changed names? If so, they may need to update their registration.  Were they unable to get to the polls in the last few national elections? If so, they definitely should double check their registration now because their name may have been removed from registration rolls.
Moms get busy, and it can be easy to let something like voter registration slide to the bottom of a "to-do" list when the election seems so far away.
*Many state election voter registration deadlines are right around the corner so take a moment right now to make sure at least 4 of your friends are registered to vote too!
http://action.momsrising.org/signup/2012-Register/
Let's empower everyone to vote this year!  It's expected to be a high voter turnout and we don't want anyone to be disappointed on Election Day that they can't vote due to voter registration issues!
Together we are a powerful force for women and families.
P.S. Want a free bumper sticker? At MomsRising we know it's time to remind everyone that moms are a powerful political force in this election and beyond! Order a FREE MomsRising "It's Time to Use Our Outside Voices" bumper sticker today to spread the word!
P.P.S. Fired up about the elections and concerned about making sure everyone who has the right to vote, can vote?  There's a secret fight for democracy going on with rampant voter suppression shenanigans in many states across the country. Find out more by listening to "MomsRising Radio with Kristin Rowe-Finkbeiner" this week as we uncover what's happening, where, and what can be done around the country to protect our right to vote. LISTEN HERE
~~Fired up? Join MomsRising now!