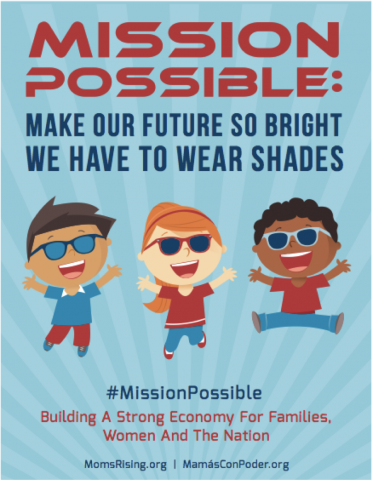 Yes! I can deliver a #Mission Possible packet to my local member of Congress!
In response to our #MissionPossible campaign to show lawmakers that building a stronger economy for working families and our nation IS mission possible, over one thousand people signed up to drop off booklets directly to their local member of Congress before June 21st.
The booklet is an educational piece that includes facts about why family economic security policies make sense along with first-hand accounts from parents across the nation about unaffordable childcare, lack of paid sick days and maternity leave, unfair pay, and more. And by dropping off these booklets to the local offices of members of Congress, leaders are being shown what's really at stake for families.
Have time to join this effort? You can sign up here: http://action.momsrising.org/signup/MPdelivery_2015/
These drop offs are easy! Here's what you would need:
(Note: You only need to pick one office of your U.S. Representative or Senators for your delivery, but feel free to deliver to more than one office if you want!)
If you have trouble locating your U.S. Representative's local in district office, don't worry! You can just email me at Nina AT Momsrising DOT org and I'll be happy to send the information your way. 
On social media? Take a fun selfie of your drop off and tweet it to us at @MomsRising with the hashtag #MissionPossible or email to me and I will tweet it from the MomsRising twitter account. Your delivery will be inspiring to other volunteers! 
What you can say at your Mission Possible drop off:
"Hi, my name is ___________and I am a constituent of ____________ and a volunteer at MomsRising.org; a national organization with over a million members across the United States, including many right here in this district. May I please speak briefly with your chief of staff or appropriate representative to give them some materials?" 
**If no one is available, just speak to the person who received you. When the staff person that you'll be handing the mini-book to is there, you can say:
"Hello! I'm a volunteer with MomsRising, a million member organization, and here's a MomsRising Mission Possible book with first-hand accounts from families that show the need for policies like paid sick days, paid family leave which includes maternity leave, as well as early childhood education and childcare, and more to boost our economy and our families. Would you please see that the Senator/Representative gets these materials? Thank you!"
**It's easy!  And fun! 
Make it a mini-celebration of sharing the voices of moms.  Speaking of which, don't forget to use your mobile phone to take fun pictures along the way — you could take a picture of the #Mission Possible mini book with the sign outside the door that has the name of the member of Congress showing, or even a picture or video of the staff member holding the page.