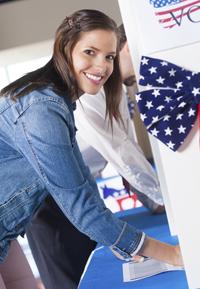 Yeah, my kid votes. Does yours?
Not to show off, but my daughter always votes. Always.
Okay (shrug), I AM showing off... But, you know, I've tried to raise a responsible, engaged American, and I've worked hard to make sure she appreciates her privilege as a U.S. citizen to have a voice in our democracy, and her duty to exercise it. Since she turned 18, my daughter hasn't yet wasted a single chance to use her voice. MY KID VOTES, and yeah, I'm proud of that!
There's never been a more critical time for young people to vote. From climate change to the availability of good jobs to the shrinking middle class, America's future – their future – is uncertain. The next generation needs to vote to help get our country moving in the right direction, towards a brighter future for themselves and all Americans. By voting, they are helping to speak up and fight for their lives, literally.
But in an analysis of 2010 registration and voting data, 24 percent of youth aged 18 to 29 said they didn't register to vote because they missed the registration deadline or did not know where or how to register.
Really? Virtually one in four youth eligible to vote DID NOT VOTE because of LAME EXCUSES!?
We can help our sons and daughters – or any young people in our lives – NOT be among those young adults with flimsy reasons for not voting. We can email them links to convenient voter registration pages and tell them to register now and vote on November 4, no excuses!
Here's MomsRising's voter registration page that you can copy and email to your favorite young adult now: http://moms.ly/MyVoteIsMyVoice 
Voting is an American right and privilege. Don't let our young people waste it.