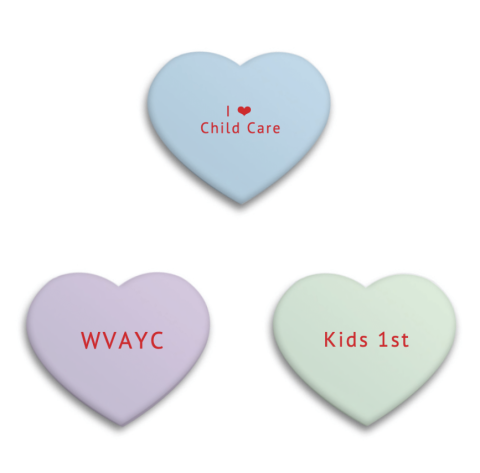 WV needs sweet child care solutions!
The mommas are tired and they want a lot more than heart shaped cards and rom com movies this Valentine's Day. They want real solutions for their families, like affordable, high quality child care.
Tell West Virginia elected leaders that it's time to show us the LOVE by supporting sweet child care solutions – like funding based on enrollment and increasing eligibility so child care workers can access child care, too!
So what is all this about and what does it mean? Put simply, child care providers are between a rock and a hard place and without additional love this year it will be really hard for child care providers to be there for families. Let's break this down. 
Like many industries, child care centers have been struggling and heart broken over labor shortages and rising prices. In addition to raising wages, one way to retain child care staff is to make sure their own kids are able to access care. So ensuring child care workers are eligible for child care subsidies for their own children, regardless of family income, would be a game changer! And bottom line, the people caring for our own kiddos shouldn't have to be stressed about the care of their own kids. 
**SIGN ON to tell West Virginia to show early educators' kids the same love and attention that child care providers give our kiddos! 
Still wondering about the reimbursement thing though? Don't worry…we got you! So when you think about your average K-12 public school, when students are forced to stay home sick or because there is a family emergency, a teacher's pay or the overall budget of the school isn't impacted just because your kid wasn't there that day. Because school funding is based on enrollment, not day-to-day attendance, school officials can keep the lights on in the building, pay their teachers and staff, and keep running schools smoothly even if some students aren't there.  
But for early educators in child care programs, it's the opposite. 
Right now, child care centers are paid for families who receive child care assistance based on attendance - i.e. only when and if a child shows up for care. If a child care program has families who receive publicly funded child care, and they are absent for one reason or another (like they get sick…which any parent knows happens ALL the time), they don't get the reimbursement funding for those kids. 
This can make for an unstable budget. Meaning it can hurt their business. And that's exactly what's happening. 
It doesn't take getting shot by Cupid's arrow to know these changes are just common sense! Tell your West Virginia House members to show child care some love this Valentine's Day! 
When over 60% of families in West Virginia live in a child care desert already, it's critical that we lock arms with child care providers and make sure they have the funds and child care for their own kids so they can keep providing high-quality child care for our kids. [1] 
But it's going to take a lot of us telling our stories and telling lawmakers that CHILD CARE MATTERS. So after you sign on, send this petition to your friends and family so they can add their name, too. 
Together, we can make sure WV child care programs get the funding they need!