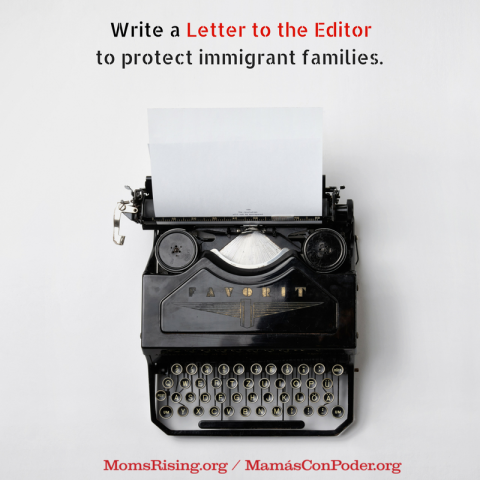 Write a letter to the editor to protect immigrant families!
All eyes are needed on an issue in Washington, D.C. that's getting little news coverage--and we need your help right away to spread the word. The Trump administration is ripping away Temporary Protected Status (TPS) status from thousands of families and is preparing to send recipients to very dangerous situations, whether it's war in Sudan or post-hurricane devastation in Haiti.  
Lives are in grave danger.
This is unAmerican. The words at the base of our Statue of Liberty, welcoming the "tempest-tossed" to our shores, have in many ways defined our country.  Allowing people to apply for TPS if something catastrophic happens in their country of origin -- like war, famine, a natural disaster, or an epidemic -- is part of our history. However, this life saving protection is now under threat.
This is not okay. This hurts us all. *Help us take a stand against Trump's devastating policy change by clicking here now
TPS holders are our friends, employers, family, and neighbors. The majority of TPS holders have been in the U.S. for many years, even decades, because their countries are unsafe. TPS holders have built homes, businesses, and families here.[1] In fact, TPS holders from just three countries, El Salvador, Honduras, and Haiti (the three largest TPS populations), have 273,000 children who grew up in the United States and know no other home. If TPS is terminated, these parents will be forced to decide whether to be separated from their children or bring them into harm's way.[2]
It is morally wrong to tear children away from mothers and fathers and leave hundreds of thousands of US citizen children in broken homes, with parents sent into devastating and often life threatening situations. It's completely horrifying to have policies that  endanger families who have been in the United States for decades and have helped build our communities and our economy. As moms, and advocates for moms, we can be voice for TPS families and send a strong message to decision makers by calling on them to protect our TPS families.
Will you submit a Letter to the Editor? We'll make it easy for you (including giving you a sample letter you can use) and help you every step of the way.
Taking just 10 minutes to do this right now will have a big and long-lasting impact.  Local letters to the editor are EXTREMELY effective ways to get the attention of members of Congress. Help us make some noise that will be heard all the way from your town to Capitol Hill in Washington, D.C. by writing a Letter to the Editor that urges your members of Congress to protect TPS families, pass the Dream Act, and move forward comprehensive immigration policy reform as we work to build strong and welcoming communities. 
It's super easy! Just fill in the form and click "NEXT" to see your sample letter and talking points.  This works! Thanks to people like you raising your voice on the last LTE, we got over a dozen LTE's placed in key local papers and even one in USA Today!
Join us in calling on Congress to take immediate action to permanently protect TPS holders, to pass the Dream Act, and to move forward comprehensive immigration reform. The diversity of our nation is what makes us strong and prosperous; not the opposite.
We need as many people as possible to speak out. Take a moment to forward this email to your friends and family and share this action link on Twitter and Facebook: http://action.momsrising.org/lte/LTE_TPS/?t=8&akid=10142%2E2580086%2E0yOedc