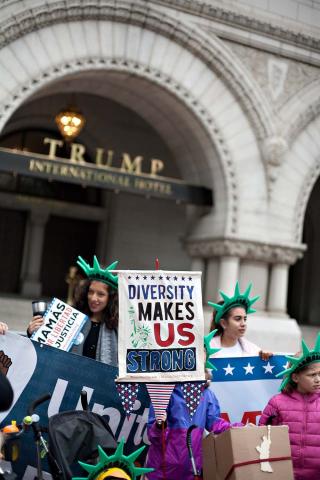 Write A Letter To The Editor in Support of Our Immigrant Families
When we visited Senate offices, MomsRising members spoke on how the diversity of our nation is what has made us a strong, innovative, and prosperous country. Immigrants play a large role in our country, they are our mothers, friends and family. They are an important part of our economy, founding many of our largest companies, creating and running small businesses, employing many people in our nation, playing an important role in our labor force, and as caregivers and community members. 
Thousands of people supported our Mother's Day action in support our immigrant families, now we need to make this appeal even stronger.  
Getting a Letter to the Editor published means that your voice reaches hundreds of thousands of people and sends a strong message to Congress about the impact this decision will have on real people.  
Best of all - it's easy! When you click on the link above, we'll lead you through a quick process to write a Letter to the Editor to your local newspaper. This tool is pretty magical—you can easily edit our pre-drafted letter, if you wish (inserting your personal story if you have one), and send it to your paper with just a few clicks. 
The pre-drafted letter (which you can edit when you click through to the link!) is logical, concise, and simply says:
As immigrants and refugees continue to be vilified by politicians, I believe it's important to reaffirm the values that make our community a place for everyone. Whether we were born here or elsewhere, we all want the same things - to raise our families in a safe community, and to feel like we belong. 
But right now, too many of us and our neighbors are getting the message that we don't have a place here, and that we can't enjoy the same opportunities and freedoms as other Americans, just because of what we look like, where we came from, or who we choose to worship. That's not what this country is about, and here in our community, we should be working to make sure everyone feels at home. We should welcome and stand up for all our neighbors, coworkers, and friends. 
America is its safest, most prosperous, and strongest when we welcome immigrants and refugees, and we make our communities the kind of place where everyone can thrive and belong.
Taking a quick moment now to click the link to use our easy platform to write a Letter to the Editor to your local paper is a powerful way to shape the media's coverage of this issue and grab the attention of Senators.
After you click the link to send your Letter to the Editor, please share this blog to your friends. The more of us who send letters, the bigger impact we will have!