World's Greatest Mom!: Your Story on the Silver Screen for Mother's Day
This Mother's Day, CNNBC Films brings you the amazing story of one mom who fought for what's right...and got the kids to school on time.
But in this movie, you've got a chance to celebrate the real superstars in your life! This year's customizable Mother's Day video lets you type in the name of any mom (yourself, a friend, your mom) and see that person celebrated for all the things she does everyday in a movie trailer.
And it looks like the blogosphere agrees: Moms are superstars every day! Check out the posts below celebrating along with us. They feature terrific ideas and personal stories to make this a Mother's Day to remember.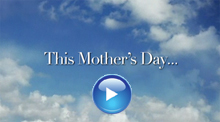 Happy Mother's Day!
AAUW: Now in Theaters!
Beth's Blog: Mama Love
Design Dazzle: Happy Mother's Day To All The Wonderful Moms!!
Economic Opportunity Institute: For Mother's Day, Mom Deserves Flowers--and Paid Sick Days
Kristin Maschka: Spoiler Alert! This Mother's Day Movie Isn't Really About Me
Kristin Rowe-Finkbeiner: Mother's Day, Daughters and the Sisterhood of Spies
Latina Lista: Special Mother's Day video makes mom star of her own movie
Lehigh Valley Parenting: Send Mother of the Decade viral video to your favorite mom (yep, this was the one from last year, but still a good one)
Mama Latina Tips: La Increíble Historia de Mamá
MotherTalkers: Wednesday Morning Open Thread
PunditMom: Everybody Wants Me on Mother's Day
Viva La Feminista: Mother's Day Gift Guide
Voices for America's Children: Your Mom is So Great, There's A Movie Coming Out About Her
Women's Media Center: Happy Mother's Day from WMC and MomsRising!
Work+Life Fit: Top 3 Work+Life Fit Gifts I Hope Every Mom Receives This Year (Including Me)
Working Moms Break: Happy Mother's Day (video- two choices!)
Working Wikily: MomsRising: Using viral video for a blend of online and offline engagement