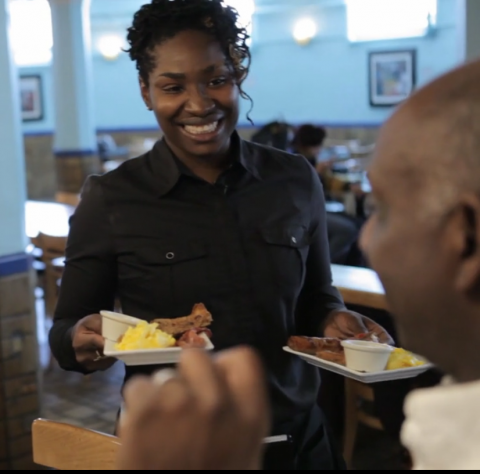 Working Families Join a Critical National Dialogue: My Message to the White House Summit
I had the privilege to take part in the recent White House Summit on Working Families, and I wanted to share with you three points I shared with the 1,000 people who attended (about a quarter of whom were union members).
The summit was in a prestigious ballroom in Washington, D.C. Many of the people in the room were high-powered business leaders interested in family-friendly workplace policies to help them recruit and retain the most sought-after workers in their fields.
But I asked everyone to mentally draw a one-mile radius around the hotel and think about all the workers within it—lobbyists, diplomats and entrepreneurs, certainly. But many, many more teachers…and fast food workers…operating engineers…and bus drivers … hotel maids … police officers … and retail cashiers.
They're people like Aisha Thurman, who has two decades of experience as a server, but her base wage is $2.65 an hour. And like Tonia McMillian, who has been a family child care provider for 21 years. It's the lowest paying job she's ever had, and she worries whether she'll ever be able to retire—but she's proud of her work.
The message I carried from regular working people was this: Work-family balance is essential in every profession, regardless the color of the worker's collar. But it can be a matter of absolute family survival for middle-class and low-wage workers.
The second point I hope I made was about the changing nature of work—and what doesn't change. Our demographics, our technology, the employer-employee relationship—they're all changing. But the 21st century workplace must be shaped by bedrock, enduring American values that do not change. Our belief in equal opportunity … fairness … family … the value of hard work … the dignity of all work … and that the American people are stronger when we come together and work together in our common interest.
And that was my third point—the importance of coming together and acting collectively. It's why collectively bargained union contracts make such a difference for working families—why 84% of union workers, compared with 62% of nonunion workers, have paid sick leave. Why union workers' median wages are more than $200 a week higher than nonunion workers. Why union women make $214 more a week than nonunion women—and the union difference is even higher for union workers of color.
But collective action isn't just for union workers. It's for all of us. What we do in MomsRising, for example, is come together to share information and take action. We're stronger together.
All workers need and deserve decent wages, fair schedules, paid sick days and the flexibility that allows them to live well in their families and communities. The policies reflect our basic American value system. And the best way to win them is through collective action.
The 21st century workplace has to work for employees as well as employers. Our challenge—together—is to put our values to work—in the office, the diner, the factory, the courthouse, the high-tech start-up, wherever we have the privilege to work.