With Child Poverty on the Rise, Can the Super Committee be Champions for our Kids?
The recent release of the new census data should serve as a stark reminder to the 12 members of the Congressional "Super Committee"  that our nation's children are in crisis.  Overall, the data revealed that the number of children living in poverty has risen to a record 16 million.   That's greater than the combined population of the 13 smallest states in the US and put together, it would rival the population of Florida.   These numbers impact families of all races and all walks of life.
While nationally the numbers are staggering, this trend is repeated in nearly every district and state represented by a member of the Super Committee.  When looking over five years, from 2006 to 2010, the number of children living in poverty has increased in every district and state except for the South Carolina 6th. 
Representative Jeb Hensarling's Texas 5th had a child poverty increase of 36% (12,000 kids) while the typically affluent Maryland 8th district of Representative Chris Van Hollen had a whopping 78% (7,000) increase.  Statewide, Arizona had a child poverty increase of 26% (80,000 kids) and both Ohio and Washington had increases of 23% (125,000 kids and 53,000 kids respectively).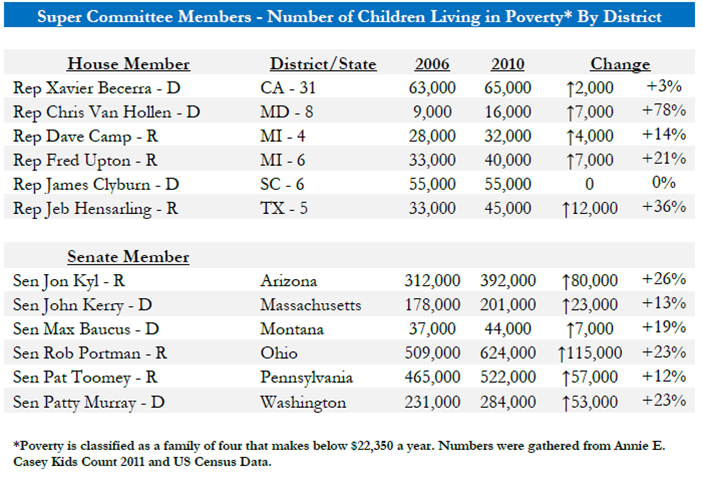 Children who grow up in poverty suffer more health problems, are more likely to go hungry, and are more likely to drop-out of school.  As adults, they have a higher likelihood of unemployment and are more likely to commit crimes.  Fortunately, we have proven programs that invest in and protect children early to alleviate these problems. 
Medicaid and the Children's Health Insurance Program (CHIP) provide health insurance for over 30 million children and covered another 500,000 during the peak of the recent recession.  The Supplemental Nutrition Assistance Program (SNAP) helps over 20 million children  and their families buy groceries, while the School Lunch Program provides daily fuel for over 30 million school students.  In 2009, the Earned Income Tax Credit and Child Tax Credit, both designed to support lower-income working families, helped keep 4 million more children out of poverty.
As the Super Committee debates solutions to our nation's fiscal situation, cuts to these programs should not even be considered.  While children only make up 25% of our population, they represent 100% of this nation's future prosperity.  If we want to truly remain a world power for generations to come, we must do everything in our power right now to see that our children get everything they need.  For members of the Super Committee, supporting these programs is not just good politics for your constituents but it is good for the whole country.  Please be the champions our children need!
Follow Jared Solomon on Twitter: www.twitter.com/jaredssolomon