Wise Words from Daughter about Adopted Korean Brother
We've come a long way since the Civil Rights March on Washington. It's commonplace nowadays for a family to adopt a child from another country. There's still much to be done regarding society fully embracing diversity, but teaching our children to be open-minded is a good start. -Maria Adcock, publisher of the Bicultural Mama blog.
This blog post originally appeared in Bicultural Mama. Many thanks to the writer, Julie Nelson, and the publisher Maria Adcock, for allowing us to re-publish it here in its entirety.
Adopting was something that my husband and I talked about long before we were even married. It was something that we both were interested in doing if the opportunity presented itself.In early 2010 we re-visited this subject as we looked for ways to grow our family. After a lot of research, we decided to adopt a child from South Korea.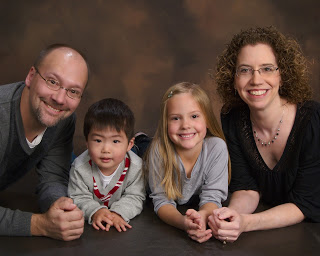 We traveled to South Korea in May 2011 to meet our son, Matthew. We were so anxious to meet him and introduce him to family and friends.We wondered how our daughter Sarah would react to suddenly being the big sister to an 11-month old little brother. She had been an only child for almost five years. Plus, being Korean, he would look very different from our blond haired daughter.
Having a 
child who doesn't look like you
 can often raise questions. Most adults, however, are sometimes hesitant to ask too many questions so as not to be considered rude or insensitive. Children, on the other hand, do not have this filter in most cases.
Here's an example:
After Sarah's soccer practice, one of her teammates came up to me (I was holding Matthew), and she began asking questions.
Teammate: "Who's he?"
Me: "He is Sarah's brother, Matthew."
Teammate: "Is he new?"
Me: "No, he is not."
Teammate: "He looks Chinese."
Me: "Actually, he is Korean"
Teammate, looking at my curiously: "Are you?"
Me: "No, I'm not. We adopted Matthew."
Teammate: "Why?"
Me: . . . .pausing a second to collect my thoughts on how to answer that question . . .
Sarah, while reaching to hug Matthew, responded without hesitation: "Because we love him and he needed a family."
Wow, I couldn't have answered that question any better myself. So simple and right from her heart. I'm so proud of her.
Teammate: "Well, he is really cute!"
Yes, he is . . .