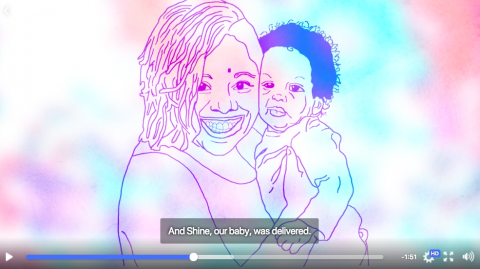 Will you help me save mothers' lives?
Patrisse Khan-Cullors is a Senior Fellow at MomsRising and co-founder of Black Lives Matter. She and Black Lives Matter just received the Sydney Peace Prize for their work. She survived serious complications after childbirth, and has now dedicated her energies to saving mothers' lives! Can you support her work, and all our efforts to help women and families rise, with a gift to MomsRising today? All contributions will be doubled through Dec. 31!
***
Every mother has a birth story. This is mine.
I remember everything. I was excited. I was nervous. And I knew that I had a high risk pregnancy. I was determined to labor at home, but eventually, I had to go to the hospital to get a c-section.
I felt so frightened. So many women across the country, especially Black women, face horrific circumstances when showing up to the hospital to give birth. And I experienced some of the most traumatic incidents of my life while being a black woman in hospitals.
Black women - and all mothers -- deserve safe childbirth. Will you help me and MomsRising save mothers' lives with a contribution today?
Shine, our baby, was delivered by c-section. There wasn't much care given to me after he was born. No one was actually telling me the consequences of a c-section.
When I got home, I started to wheeze. I was in so much pain. I reluctantly went back to the hospital. When I got there, they diagnosed me with pneumonia. I Googled "pneumonia after c-section" and found this was pretty common, yet no one told me this.
I also received a really alarming phone call from the doctor. He said, "You need to come back. We think you have a blood clot and we need to make sure that you will be safe." After that, I started to Google "blood clots after c-section," which was also really common.
I started to see the number of women who died after giving birth to their child, especially after giving birth while at a hospital. The U.S. maternal mortality rate is the worst it's been in 15 years, and illness and death during pregnancy are on the rise. Black women are four times more likely to die from pregnancy complications than white women.
Although I survived my experience with pregnancy, many Black women haven't and won't.
At MomsRising, I'm helping to build and support a strong maternal justice program. We envision a world where Black mamas have the rights, respect and resources to thrive before, during and after pregnancy.
Will you join me in the fight to end maternal mortality in the United States?
Thank you for listening, and for your kindness and generosity today.
In peace,
Patrisse Khan-Cullors