Will the President Choose Kids Again?
President Obama's Past Budgets Invest in Kids - Will the Positive Trend Continue in 2013?
A detailed analysis of the last three budget requests reveals that President Obama has requested on average a nominal increase of 5.2% each year for children's programs.  2011 saw by far the biggest proposed increase of more than 7%.  This stands in stark contrast to the last requested budget by President Bush, which proposed a 3% decrease.  For ease of comparison, these numbers only include programs on the discretionary side of the budget.  Discretionary programs include things Congress decides to fund each year, like Head Start, while mandatory spending represents long term commitments where Congress has little control over yearly funding levels, like Social Security.
Though this analysis excludes mandatory spending, the President has been a strong advocate for increased funding to many mandatory areas that benefit children.  This includes positive changes during the reauthorization of the Children's Health Insurance Program (CHIP) in 2009 and the Child Nutrition Act of 2010. 
In addition to the commitments made in each budget, the American Recovery and Reinvestment Act (ARRA), proposed by President Obama, made a tremendous investment in kids.  Almost one out of every five dollars provided in direct spending, or roughly $120 billion, from ARRA went to benefit children.[i]  ARRA provided much need boosts to education, children's health, and children's nutrition, as well as support to vital state run programs that impacted kids.  In 2010 alone, the ARRA support resulted in a 19% increase in the amount of federal money spent on children.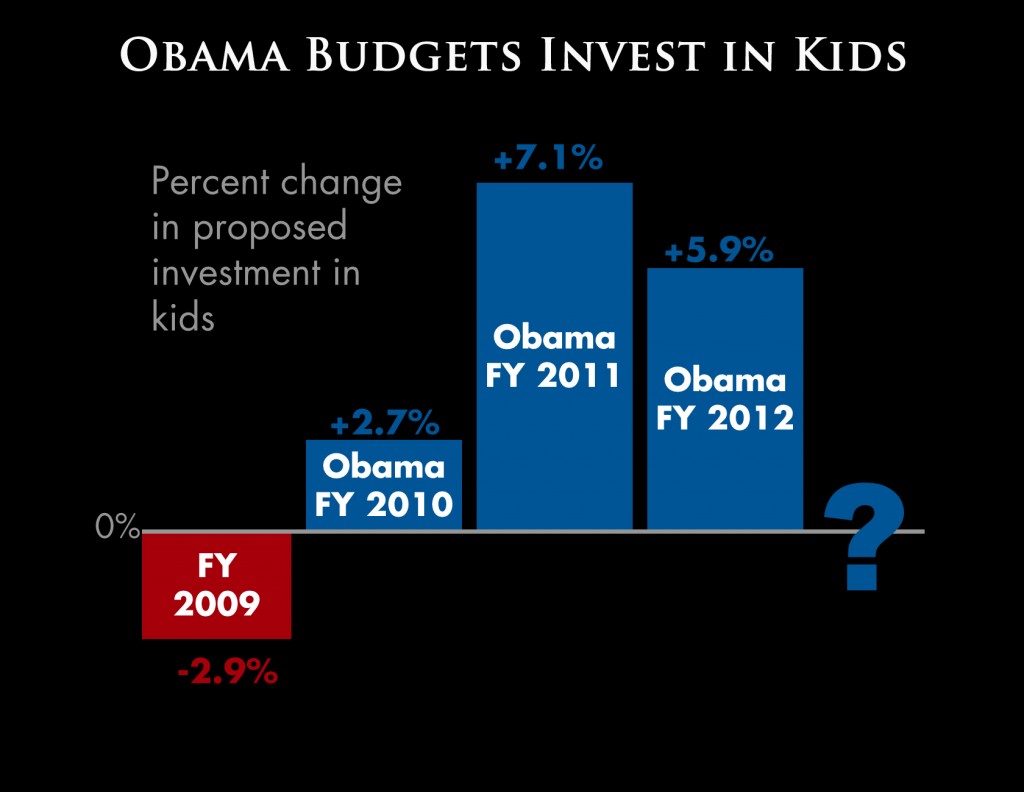 NOTE: Budgets are proposed in the current calendar year for the next fiscal year beginning in October.  For example, President Bush's FY 2009 budget was proposed in February 2008.
Will the President Continue to Choose Kids?
Next week, President Obama will release his Fiscal Year 2013 Budget.  Analysts and commentators will pour over the numbers looking for signs of the President's priorities for the year to come.  Over the past three years, it is clear that President Obama has chosen to make investments in kids a top priority.
Even with the President's positive requests, Congress has authorized far less than what the President has asked for.  As a result of Congress's decisions in conjunction with the expiration of ARRA, funding for children as a share of federal spending is still far below what is needed.  In 2011, only 8.4% of the federal budget went to children, including what's left from ARRA.  As more and more of our children face unprecedented challenges, every dollar we invest can make the difference between a child having a balanced meal or going hungry.  As we anxiously await his budget, we call on President Obama to continue to make children a top priority.
[i] ARRA spending totaled $862 billion over ten years, with $626 billion in direct spending and $236 billion in tax cuts.