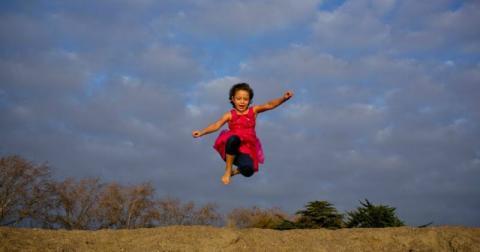 Why we should speak our native language with our children
For most immigrant parents, raising bilingual children is not a choice or a decision, it's a way of life. Regardless of whether our native language is Spanish, Filipino, Korean, Chinese or French, we all want our children to be able to communicate in the language in which we were born and teach them to love our mother tongue. After all, we want them to be able to travel to our home countries and talk to our relatives. We want them to know where we came from and our language is a big part of this knowledge. As writer Rita Mae Brown said once, "Language is the road map of a culture. It tells you where its people come from and where they are going". For immigrant parents, this is more than a catchy saying. It's a pressing desire.
But in today's United States, our desire to teach our children our mother tongue is usually less important than making sure that they are proficient in English so they can thrive in school and obtain leadership positions in the professional world. We want our children to break through all the barriers they might face, to be as successful as they can be – and we know that mastery of the English language is a necessary component of this type of success.
This means that we have two competing desires, two profound desires that revolve around language learning. But the task of teaching two (or more) languages at home can be so overwhelming that sometimes we feel intimidated by the steps we need to take or even where to start.
In my book, Raising Bilingual Children, I discuss in detail the importance of preserving the native language and how we can do it. It's an easy and practical guide that helps immigrant parents with their goal and commitment to raise their children in two or more languages. The book, which is electronically published in Spanish and English, is designed to offer a quick way to seek advice and guidance about the daily joys and challenges of raising bilingual children. It also provides answers to questions such as:
"What should I do when my five-year-old does not want to speak Spanish at home?"

"My husband doesn't speak Japanese; how can we reach an agreement to raise our children in two languages?"

"My son is two years old and still doesn't speak any of the two languages we speak at home. Should I worry?"
In addition to helping you find answers to your most pressing questions, Raising Bilingual Children also includes stories of parents who share their ideas and experiences, interviews with the children of these families that give us an idea of how it feels to be in their shoes, opinions and suggestions of experts in the field, comments from renowned celebrities who have benefited from being bilingual, and links and resources to find more information about a wide range of related topics.
Raising children with two or more languages isn't easy and requires great effort and active participation from the parents. But according to experts, scientific studies and parents that have succeeded, raising a child that speaks two or more languages fluently is an incomparable gift that can make a difference in the child's life in many ways: positive outcomes in their intellectual and mental growth, greater ease to resolve conflicts, more social development and a greater chance of finding a more lucrative job and career. Therefore, as parents, shouldn't we do the impossible to give them this gift?
Here are 8 suggestions to motivate the child to become fluent in one or more languages:
Develop a language plan for the family, preferably from the time the child is very young: Spanish at home, English outside and at school.
Involve every person in his/her life: grandparents, aunts and uncles, friends and neighbors.
Make it fun.
Provide the necessary tools, for example, books, videos, apps, games, TV shows, YouTube. Today there are many resources available for parents and we must take advantage of them.
Keep an open mind: do not be afraid of English and encourage the use of Spanish.
Ask other parents or teachers for help.
Food and music from the country of origin can help.
Be a good example for your children: be consistent with your plan!