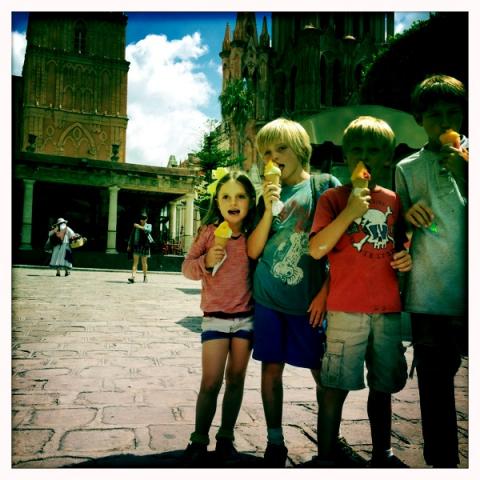 Why Use Music to Start Your Bilingual Journey
"Voulez Vous Coucher Avec Moi?" on loop… that was my 90's song from Patti LaBelle's 1974 hit. Why that had to become my earworm to haunt my young adulthood says more about my aspirations than my reality, but it did pique my interest in foreign languages.
Flash forward a million years and I am a mother raising 3 humans in the 2000's. I clearly went to the coucher 3 times, and it occurs to me that I'd really like my 3 citizens to understand that phrase above. Not exactly that phrase, but to understand French or Mandarin or any foreign language.
Raising bilingual children couldn't be more important in a divided world that too often focuses on the differences between people. The differences are actually the most interesting and making connections, the most important. We learn from one another when we communicate. We read social cues and body language to help decipher the other. Learning another language fosters empathy and forces us to try to understand someone else – not just their words, but the world that they inhabit.
Learning a new language is like lighting a sparkler in a young child's brain that starts a giant firework show! It is insane - insanely beautiful, 'insane in the membrane.' Despite all the other benefits that are often cited for bilinguals (increased cognitive function, future job opportunities, delay of Alzheimer's, etc.), simply put - it creates more connections between the neurons in the brain – why wouldn't EVERYONE want that for their child?!
More brain connections = more brain power
When my children were young, I engaged my kids with song. Music touches a part of your brain, your heart, and it doesn't feel like work. Music and memory are often linked, and when you listen to music (let alone actively sing it), you engage the same and surrounding parts of your brain around speech and language. You are activating a firestorm in your brain! There's a ton of research about it… but suffice to say, why is that you can't get a song out of your head sometimes? #earworms Why is it that you remember a song from childhood that you haven't heard in 20 years? #memory. So why not combine the incredible power of your brain and apply it to learning a new language? That first phrase above had earwormed me 20 years earlier (can 'earworm' become a verb?) working retail one college summer in an Express store. Now I wanted an earworm with intention.
Click here to get Labelle's earworm:

Our music is designed with lyrics that you CAN use in everyday life like, "Where is the bathroom?", "I'm hungry", and "Do you want to play?" Catch these earworms that teach you to communicate the phrases relevant to your child's world. When we hosted Habla Blah Blah classes for toddlers in the past, we always designed them like a birthday party to engage the learner and keep them coming back for more! Kids associate the feelings created during any experience, so when it is positive, they tend to feel more positive about the experience. Transitive properties at play, work it. Keep Spanish learning positive.

 

I was raised a native English speaker – only. It can be intimidating to embark on teaching your child a foreign language when you are not fluent in the target language or still learning yourself – first of all, remember that we are all #lifelonglearners (my kids have now surpassed my own Spanish skills) and you are modeling how to learn as much as what to learn. You give value to the process. Do not underestimate that.

 

You give value to the process.

 

There is a myth that some people are more naturally inclined toward language learning, but at Habla Blah Blah we think that some people/kids are just more motivated – so find your kid's motivation. Is it a cookie? Ask me in Spanish, and I will say yes. Is it the television or a video game? Play them in your target language. Whatever gives a little dopamine push, that's your tool.

 

Once your child understands that any language is just a code to be cracked, they apply their newly found #decoding skills everywhere – to math, computer coding, other languages. My daughter got the bug to decode and wants to learn French now, her third language. Life is short and precious, and I love making connections in the world, so I said YES. In preparation for our 3 month immersion trip, I am listening to Spotify's 'French Hip-Hop' playlist.

 

Music always beckons me. Travel always motivates me. What motivates you? What motivates your child?

 

 

 

For more Teaching Tips, visit our link here.