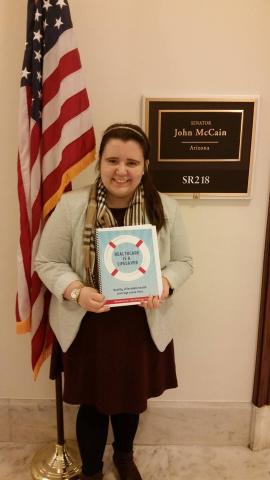 Why the ACA Matters To Me
Last week, I was fortunate enough to go to Capitol Hill and share my health care story with legislators and their staffs.  As someone who benefits greatly from the Affordable Care Act, also known by Obamacare, it was important for me to let politicians know how repealing the law and not replacing it would hurt my family and I.
At the age of four, I was diagnosed with Celiac Disease, a genetic autoimmune disease where the ingestion of gluten leads to damage in the small intestine.  This means that for the majority of my life, I have had a pre-existing condition.  As a kid, I was always sick with the latest virus that was going around the classroom.  I had thousands of appointments, prescriptions, hospital visits, tests, and more.  This meant having health insurance was a must for my family, considering our medical bills were already so high even with it.  My parents were also afraid of what would happen if I lost my insurance, knowing that pre ACA those with pre-existing conditions who did not have continuing coverage were at risk of being denied insurance in the future.  
That is why when my father lost his job, my parent's first concern was about our health insurance.  No family, when the devastating effects of losing a job, should have loss of health care be their main concern. My parents sacrificed so much back then to ensure we had access to COBRA insurance.  After Obamacare, my parents could breathe easier knowing I would not have to worry about my pre-existing condition hurting me in the future.  
Since that time, my family has faced multiple health challenges: from my father's stroke to emergency dental surgery.  No matter how tough the challenge, we were able to face it knowing our health care was secure.  This year, my parents successfully signed up for insurance through the Marketplace, saving them over $1500 a month on insurance after qualifying for a subsidy.  I am fortunate that as a twenty-two year old graduate student I can continue to stay on their plan until I can afford to get my own insurance.
Yet as Congress goes into recess for the Holidays, the anxiety over health insurance has come back.  By repealing the ACA and putting nothing in its place, Legislators are giving my family an unknown future.  We, just like 20 million other Americans, do not deserve the chaos and fear of not having health insurance so our elected leaders can gain political points. Healthcare affects real people and it is unacceptable and irresponsible to take away insurance and not replace it.  
Read stories from our storybook here: https://s3.amazonaws.com/s3.momsrising.org/images/Healthcare_Lifesaver_B...
Have a healthcare story you want to share with Congress? Tell us here!