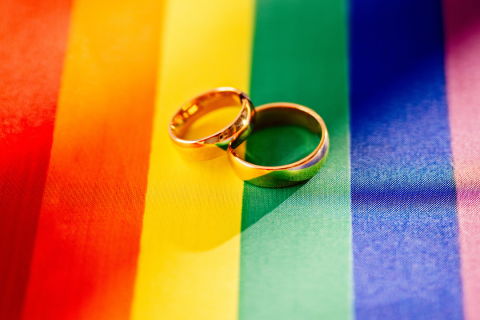 Why is Marriage Equality Important?
Recently, we asked our members to tell us why marriage equality is important to them and a MomsRising member in Florida shared her experience with us:
"I married a man, a good friend, in 1966 because marriage to a man was expected of all young women during those years. I knew I loved women, but didn't know what to do with it, I just knew, starting in pre-school childhood, that attraction to the same sex was not spoken of, and I wondered if I was the only queer one. Later, I learned that if we existed, we were abnormal and despised by everyone. 
At a very young age I became good at hiding who I was and pretending to be someone else. With much fear and anxiety, I "came out" as lesbian in 1973, while still married. After a couple of female relationships, I divorced my husband, though I still loved him as a friend. It was a traumatic time for both of us, leaving me with terrible feelings of guilt for hurting him. That would never have happened but for society's stereotypical rules and expectations, generated mostly by religion. I was raised in the fundamentalist Christian tradition, but had to reject it, being self-compelled to choose sanity over superstition. That was another traumatic time, considering all the teachings with which I had grown and come to believe, since early childhood. 
I eventually settled in with my first female partner. Our relationship lasted for 26 years, ending with her death. We, of course, were not allowed by the government to be married and that took an emotional, social, and financial toll. I was not allowed by her family to bury her. After I paid the funeral home, relatives, who had not visited her for years, legally took her remains and had their own private service, burying her in their own chosen place in another state. 
I am now legally married to my second female partner. In 2013, same sex marriage was not yet legal in our state of Florida, so we traveled to marry in Iowa. That was an expense we would not have had if we had been "legal" in Florida. We had been together for 10 years before we were allowed to be legally married. 
After suffering the legitimized discrimination and hatred of LGBT people for so many years, and finally gaining recognition as real citizens with human rights, I fear that with the hatred against LGBT people being generated by my FL governor, Ron DeSantis, the Supreme Court decisions and their prospective plans for the future, coupled with Republican and religious politics, it makes me glad to be 82 years old. I feel sorry for younger generations of LGBT people. I fear what will happen in their future."
Congress is currently considering a bill that would shore up marriage equality for same-sex and interracial couples. Be sure to SIGN ON to our petition, and TELL US why you support marriage equality!