Why Immigration Is A Women's Matter
(Photo: In a packed Presbyterian church in D.C., the National Latina Institute for Reproductive Health brought down the house with chants for dignity and respect of all immigrant women. The event, held on March 18, 2013, brought out 500 people, including NLIRH members, Congressional leaders, partner organizations and the media.)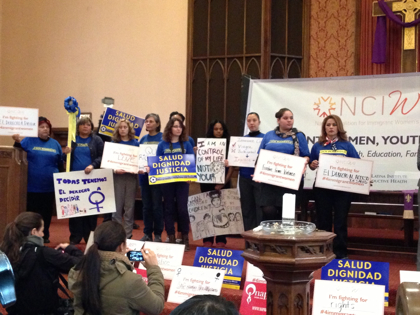 Last week, I had the honor of partaking in a series of events in D.C. to advocate for immigrant women. I attended a rally put on by the National Latina Institute for Reproductive Health. As part of the We Belong Together women's coalition, I attended a reception and workshops, listened to the personal stories of immigrant women and visited Congressional offices to ask that they include the needs of immigrant women in any comprehensive immigration reform bill.
(Photos from left to right: Pramila Jayapal, distinguished Taconic Fellow at Center for Community Change, was a key contributor to last week's We Belong Together events in D.C.; Not only was MomsRising.org a member of the rally host committee, but our executive director Kristin Rowe-Finkbeiner delivered a rousing speech.)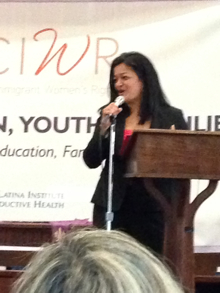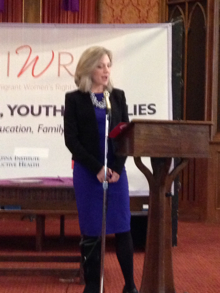 As the daughter of a Cuban immigrant and longtime and ardent supporter of immigrant rights, I didn't expect to learn anything new.
I was so wrong.
In a nutshell, this is the nugget of wisdom that I gained: even though women comprise of more than half of immigrants in this country -- 51% -- their voices are not included in any discussion on immigration reform. As it was pointed out to us by the organizers at We Belong Together, an oft-repeated central tenant of immigration reform is temporary work visas of which three-quarters are awarded to men. All "Gang of Eight" Senators hammering out a bipartisan comprehensive immigration reform bill are men. Perhaps not coincidentally, they are considering curbing family immigration – the No. 1 way immigrant women arrive to this country.
The New York Times outlined the shortsightedness of this approach in an editorial published shortly after last week's immigration events. It called family immigration an "economic bulwark."
Families incubate job-creating businesses, provide a safety net for their members and hasten assimilation. Employment visas are important for companies to recruit needed workers. But these workers have spouses and children and siblings....

Immigration is more than a business relationship America has with selected foreigners. It's a process that renews this country; it means going all-in on America, through binding ties of love and blood. Recruited workers enrich the country. Reunited families do, too.
(Photo: I was particularly moved by DREAM activist Greisa Martinez's speech at the rally. She said: "Our parents dreamed for us before we could dream for ourselves.")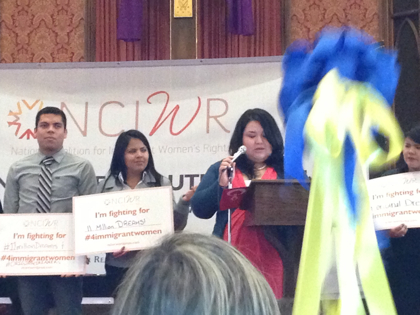 I can only imagine how less productive my husband and I would be without our children and extended family in tow. They are our rock and the motivation that keeps us going in spite of busy and challenging days. Why would it be any different for immigrants?
(Photo on right: Senator Mazie Hirono of Hawaii shared with us how she immigrated as a little girl with her mother, who left an alcoholic and compulsive gambling husband. The Senator's mother raised three kids alone in the United States.)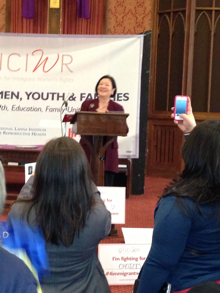 After spending a couple of days with women from all backgrounds and walks of life, I realize that not only is immigration a women's and family issue, but there is so much work to be done to make sure that all women -- foreign born and U.S.-born alike -- are not excluded from the national conversation. If there is a common thread that came out of my Congressional office visits it is that we have only started having this conversation, and now we must keep up the pressure.
Without further ado, here is a montage of photos I took from last week's events. Enjoy!
(Photos from left to right: Following the rally, there was a judiciary subcommittee hearing on women immigrants that included both Senators Hirono and Al Franken of Minnesota. I ended up in the second "overflow" room and watched the hearing on a projector screen. The Sen. Franken line that drew laughs? "And don't these long backlogs encourage illegal immigration? My kids love me and would do anything to be with me!")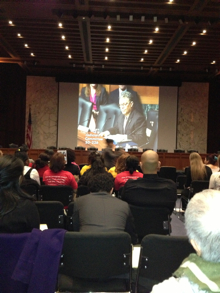 (Photo: Me with one of my favorite women leaders and people online – Elianne Ramos, who is on the executive team of Latinos in Social Media (LATISM))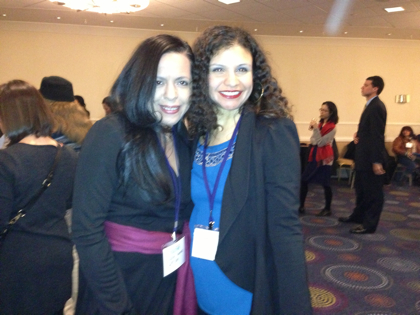 (Photo: On one of our Congressional staff visits, I and members of the National Domestic Workers Alliance met in person with U.S. Rep. Jerry McNerney of California. One of his constituents, Lupita Guzmán, was able to share her experiences on being an undocumented domestic worker who received provisional status thanks to Deferred Action for Childhood Arrivals (DACA).)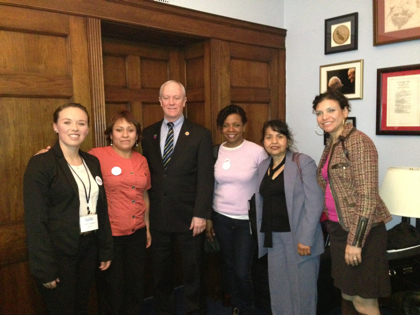 Fired up? Sign up for MomsRising's action alerts -- it's free!