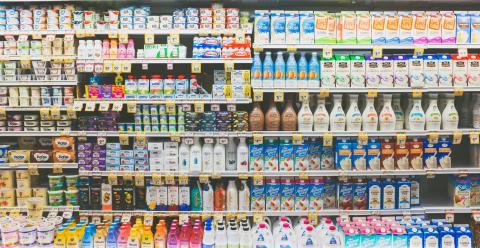 Why I'm Grateful for SNAP and WIC
The U.S. Congress just unveiled a tax bill that would give 80% of tax cuts to the top 1%. Meanwhile, low and middle-income families across the country will be left footing the bill through higher taxes and cuts to vital health care, nutrition, and education programs. Concerned parents, grandparents, and voters are speaking out to let Congress know this isn't acceptable. Our Super Mom Stephanie explains why programs like SNAP and WIC are important to families. 
My escape came on a rainy summer afternoon in 2009.  I had no phone, no money, and no transportation so I walked until I found a gas station with a payphone.  The man, I had just recently fell head over heels for, had knocked me out cold and I knew I had to get out.  He was smart and manipulative so I had to come up with a good lie to get him to let me leave.
Up until this point, I was happy and making a good living as an over-the-road truck driver.  I was renting a beautiful house in South Carolina, traveling all over the U.S., and feeling more confident than I'd ever felt in my life.  It all came crashing down in an instant.  He took every cent I had and I lost nearly everything.
I returned to driving a truck but soon realized that I was pregnant.  I didn't have any money left, so I lost my house and had to drop off my two sweet cats at the pound.  I called every no-kill shelter and they were all overwhelmed and unable to take them.  I got what I could into storage and started staying on a friend's couch.
I told my company that I was pregnant and work for me became scarce.  I kept driving but I couldn't make enough money to get back on my feet.  I didn't know what else to do.  I just kept driving until I was about six or seven months pregnant (I only visited a doctor once and I was never really sure).
It was Thanksgiving when I came home permanently but by this time, I couldn't go back to my friend's house because of a money dispute.  Mainly, they wanted money and I had nothing.  I did have some angels though that took me in until I could find a place to stay.  That's when I started bouncing around between different places for homeless women.  
I couldn't have survived without SNAP and WIC.  When she was a baby the WIC ensured that she had enough to eat by providing formula and baby food and the SNAP ensured that we both had enough to eat.  They only cover food, so I had to rely on donations for anything else that I needed like diapers, clothes, shampoo, body wash, etc.  And at least the places I stayed provided toilet paper and paper towels and kept the lights on.
I couldn't find a job because I couldn't get daycare and I couldn't get daycare without a job.  I couldn't apply for daycare assistance without a job and it was a two year waiting list.  I didn't see a way out; I felt so desperate.
Looking back, I feel so grateful for these programs.  They made the difference that allowed me to be a mom to a beautiful girl.  I stumbled and failed and made lots of mistakes but we always had something to eat and a safe place to sleep.
Moms like Stephanie show us why the vital health care, nutrition, and education programs families rely on cannot be bargaining chips for corporate tax cuts. For more on our series, check out our tax blog: www.momsrising.org/blog/say-no-to-15-trillion-in-tax-cuts-to-wealthy-cor...