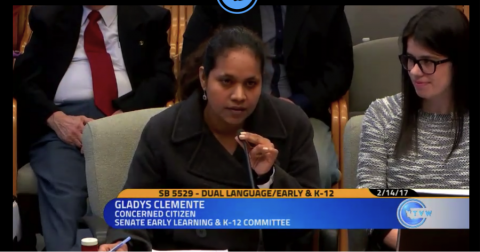 Why I support dual language programs
*** Want more information on raising multilingual children? Visit MomsRising's bilingual parenting resource site: http://action.momsrising.org/survey/bilingual_baby/?source=blog
My name is Gladis, I am the mother of three children and I have one child in special education.
Last month, I testified in front of Washington elected leaders because I wanted to share why dual language learning is so important to me. First of all, as an Immigrant and native Spanish speaker, the language barrier was one of the main obstacles to achieve my goals.
To have my children in the dual language program means the world to me.
It means than I can share my culture an traditions with them, that they will have the opportunity to learn my language from scratch, and that they are going to be able to communicate with my parents and family that does not speak English. Above all, with the dual language program, I have been able to participate more actively in the school and community as a PTA member promoting parent engagement and advocating for quality special ed services, beyond of all brain benefits that are associated with bilingualism and better jobs for our children in the future.
I think supporting dual language programs is the best way to advocate for our children.