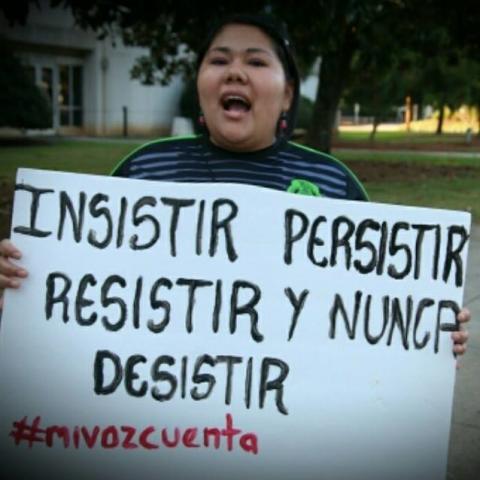 Why I Participated in Civil Disobedience as an Undocumented Immigrant in North Carolina
The following has been translated by William Saenz, Communications Coordinator with El Pueblo in Raleigh, NC.
My name is Carmen Rodriguez, and I'm originally from the state of Oaxaca, Mexico.  I came to the United States with thousands of other immigrants searching for a better life.  I've lived in North Carolina for 13 years as the undocumented mother of three US citizens, including two boys who play in Raleigh youth soccer leagues, and my daughter who is a competitive cheerleader.
This week, I'll be a defendant in court alongside 5 other individuals who participated in civil disobedience last month, outside of our State Governor's Mansion, because of an anti-immigrant, anti-poor bill he signed into law.
Essentially, the North Carolina General Assembly is giving in to the recent wave of anti-immigrant rhetoric by taking away the right to identify myself.  
As of last month, the use of consular documents from embassies, as well as Municipal ID's, was banned as a valid form of identification when interacting with certain government officials.  The use of E-Verify systems to check an employee's legal status has also been implemented even further, which will only drive immigrants further underground, making them more vulnerable to worker abuses and wage theft.
Thankfully, a last minute change to the bill made it so law enforcement officers can still accept our Municipal ID's, thanks in part to police departments in cities like Greensboro and Burlington who spoke out against the bill. 
Still, it has been made clear that we are currently being targeted along with our state's low-income community, and that the end goal is to criminalize us out of our desire for freedom and safety.
My life as a working mother is hard enough when our state refuses to provide people like myself with drivers' licenses.  Being at risk of constant ticketing or worse whenever I get behind the wheel leaves me anxious to perform even the most basic tasks, such as buying groceries or picking up my children from school.
Hearing such hateful words against the Latino community from state officials like Republican Rep. George Cleveland, who recently said that my community has no right to a "sense of belonging here," only pushes me further in my fight for social change.  Despite our work ethic and willingness to accept jobs that no one else will, we are undervalued and disrespected by our state government, and I'm tired of not being given the opportunity to take part in the simplest of activities, like volunteering at my children's school because I am denied a state ID.
It wasn't too long ago when I finally said that enough is enough, and I decided to act as a voice for the thousands of undocumented mothers living in NC, many of whom are forced to keep quiet due to a broken legal system that demonizes our hard-working immigrant community. 
When I enter the Wake County Courthouse on December 3rd, alongside the other protesters, it will be with a clear conscience that comes with opening up about my undocumented status, knowing that the ability to live without fear is a basic human right.  I understand the risks that come with this, but I will not be intimidated. 
The fight for justice, equality, and our own dignity has begun, and no state's legislative body can stop it.  
Carmen is an active volunteer with the Latinx non-profit group El Pueblo, as well as a leader for the grassroots organization "Si a Las Licencias." This was originally published at DailyKos and republished by the author.