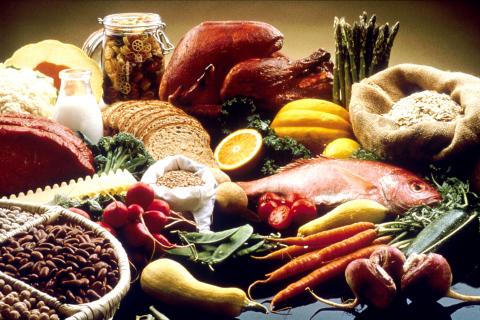 More than 100 years ago, after Upton Sinclair worked undercover in Chicago meatpacking plants, he revealed the abuse and exploitation of immigrant workers in the industry—including the tragic story of a worker who fell into a rendering tank. Public reaction to his great book, "The Jungle," forced federal measures to make food safer—but not workers safer.
There shouldn't be any separation between good food and good jobs, because working conditions in the food system are everyone else's eating conditions.
Unions represent workers throughout the food system—farm workers, meat cutters, poultry workers, restaurant workers, grocery workers, workers who transport food products, food safety inspectors and others. What these workers win at the bargaining table affects what we put on the dinner table.
Many jobs in the food industry pay low wages—at or near the minimum wage or, even worse, the absurdly low minimum of just $2.13 an hour for tipped workers. It's ironic that many industry workers experience food insecurity themselves. At Walmart, the country's largest grocery chain, workers actually have set up donation bins before Thanksgiving so their colleagues could celebrate the holiday with decent meals.
Today, 80% of low-wage workers don't have a single day of paid sick leave—which can force the people who handle our food to go to work sick. Would you like a side of the flu with those sweet potato fries?
Many food industry jobs are among the most dangerous in the nation, with threats ranging from pesticide exposure to backbreaking labor in food processing plants and sexual assault of farm workers and restaurant servers.
Undocumented immigrants who work in fields and in kitchens are especially vulnerable to workers' rights violations, such as wage theft and inadequate safety and health protections. Unscrupulous employers have an easy way to handle things if a worker complains or tries to form a union for help: Just call in immigration officials. 
International trade deals now under consideration threaten our right to safe and locally produced food. And in the midst of all this, we are in a political environment that makes winning or even maintaining regulations of any kind, including food safety, worker safety and workers' rights rules, more difficult than ever.
So we who care about our family's food are up against a lot. But there's room for optimism. Throughout the food system, worker-activists are standing up and challenging the status quo.
In addition to the Black Friday strikes led by Organization United for Respect at Walmart (or OUR Walmart), Walmart workers waged a Respect the Bump campaign that won accommodations for pregnant workers.
The Fight for $15 strikes by fast food workers spread through 190 cities last year, and continue in 2015.
Before food gets to us it has to be harvested. The Farm Labor Organizing Committee—FLOC—pioneered the strategy of taking workers' demands for better wages to the users of produce rather than the growers. An example is FLOC's five-year boycott of Mount Olive Pickle Co. in the 1990s on behalf of cucumber pickers. These days, FLOC workers have taken their case for fair wages and treatment for tobacco pickers to tobacco company shareholders, including a visit to a British firm that has a major share of the company's stock.
Sexual harassment? ROC United confronts it in restaurants with an "I'm Not on the Menu" campaign. And because brave women who work in California fields told their stories to investigative reporters, last year they gained new legal protections against sexual violence and harassment.
These are just a few examples of workers standing up and making our voices heard for better working conditions in a better food system.
I know many of you are food activists. As you advocate for food quality and sustainability, don't forget about the workers that make safe and healthy food possible. Thanks.