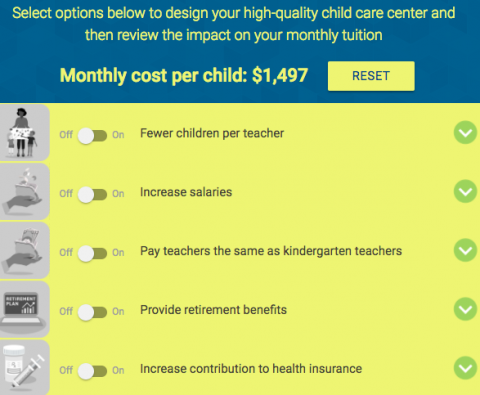 Where does your child care dollar go?
I've always wanted a big family. But, after my second child was born the realities of multiple kids made me re-think my desire to fill a minivan. It wasn't that we would need a bigger house, or a bigger car, or multiple plane tickets to visit family that had me most stressed out. It was the cost of child care.
When my children were born, my family lived in Colorado, a state with some of the highest child care costs in the country. The combined monthly tuition for our toddler and infant in a child care center was over $3,300 a month. That's nearly $40,000 a year, or 60% of the median household income in Colorado! For us, this amounted to almost three times our monthly mortgage payment. We were lucky enough to have the means to cover this high cost, but it wasn't easy and required sacrifices.
Sadly, I'm one of the lucky few who can (barely) afford high-quality child care.
Across the United States, families are struggling with the high cost of child care. At a time when parents are most financially stretched – paying for diapers, kids clothes, doctor visits, and often still in the early stages of their careers –  the cost of child care is often too much to bear.
There is another side to this equation. While child care costs are a significant burden for families, early childhood is one of the lowest paid professions in the U.S., with the average child care teacher making just $10 per hour. Over 40% of child care teachers report relying on public assistance at one point in their careers.
This reality leaves many parents asking two big questions: Why does child care cost so much, and where does the money go?
As a researcher who focuses on the cost of high-quality child care, I sought to build a tool that would help parents and policymakers answer these questions. This interactive tool (available at www.costofchildcare.org) allows parents to model a quality child care center and for the first time see what goes into their monthly child care bill.
Despite low pay, the tool and accompanying report show that teacher salaries and benefits account for 60-80% of expenses in a typical child care center, varying based on compensation levels and teacher-child ratios.
To understand why even low salaries make up such a large share of the cost, you have to know a little bit about the economics of the child care business. Child care is a labor-intensive industry. It cannot be outsourced, it cannot be automated, and there are very few economies of scale to be realized. Children need caring, well-skilled professionals, who can maximize the learning opportunities that arise throughout daily interactions. And small class sizes and low teacher-child ratios are essential to ensure children receive the individualized attention so critical to their development.
The data in this new tool demonstrate that the current child care industry is built on the backs of the early childhood workforce – parents can only afford child care because teachers are underpaid. And child care subsidies barely cover the cost of a child care program that meets basic health and safety regulations and pays teachers minimum wage, let alone a high-quality program.
Parents are already stretched and cannot afford to pay more, and current public assistance programs are woefully inadequate. While the recent increase in CCDBG funding is a welcome down-payment for a more robust investment, even if it was used to double the number of children served, it would still only serve one third of eligible children.
Given the importance of early childhood education to the development of the next generation it is time to provide the level of public investment necessary to ensure all children have access to high-quality early learning experiences. Our children cannot afford to wait any longer.