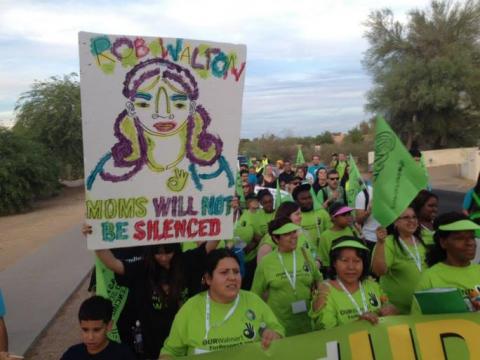 When You Shop, Think About Moms in Retail
Last week, moms who work at Walmart walked off the job across the country. Joined by co-workers and allies, they have been calling for respect and decent wages—at least $25,000 a year—and demanding an end to retaliation against employees who speak out for better working conditions. They also took their message to Walmart chairman and heir Rob Walton personally, and to the annual Walmart shareholders meeting.
Walmart mom Evelin Cruz of the Pico Rivera, Calif., store said, "I'm striking for Barbara, for Tiffany and for other moms who Walmart has tried to silence. Our families cannot continue to struggle on Walmart's poverty pay and constantly changing schedules while Walmart and the Walton family make billions from our work." (Watch this video for more stories from Walmart workers.)
The Walton family, Walmart owners and heirs, are the world's richest family, worth some $140 billion. The company had profits last year of $17 billion. Yet the average Walmart associate is paid an estimated $8.81 an hour.
The Walmart story and the struggles of Evelin and other Walmart moms illustrate perfectly the gaping income inequality that is tearing apart our economy, our sense of justice and our families.
It also paints a portrait of the reality of women in the retail industry today.
The 825,000 women of Walmart are among 7.2 million women retail employees—1.3 million of whom live at or near poverty. A new report from Dēmos, "Retail's Choice: How Raising Wages and Improving Schedules for Women in the Retail Industry Would Benefit America," says women are clustered in the lowest end of the low-wage industry's pay scale. The pay gap between men and women in retail costs women an estimated $40.8 billion in lost wages annually. 
If the country's biggest retailers paid the equivalent of $25,000 a year for full-time work, Dēmos reports, 900,000 people, including 437,000 women working in the industry, would be lifted above poverty or near poverty.
What would this cost the retail giants? Less than 1% of their $4.3 trillion in annual retail sales.
I think it's time.
These moms and workers trying to change the conditions at Walmart have come together in a group called "OUR Walmart." You can help lift their voices by contributing to the OUR Walmart fund, ensuring no Walmart striker has to go without because she or he is taking a stand. If the worst happens, the strike fund will help current and fired Walmart workers keep fighting for change.
Click here to contribute online today by credit card or mail a check to:   
OUR Walmart
P.O. Box 66536
Washington, DC 20036
(This fund accepts contributions only from individuals who are not employers or agents of an employer. The fund is administered by Making Change at Walmart in conjunction with OUR Walmart. One hundred percent of funds (after credit card processing fees) will go to support workers mobilizing for change. Contributions to the fund are not tax deductible as charitable donations.)
Thank you on behalf of Walmart's moms and all the women in the retail industry. It takes many voices coming together to make change!