When Women Wake, Mountains Move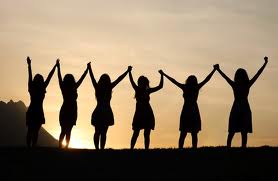 I was driving home from school drop off this am, listening to J Lo sing about wanting to dance again and it hit me.  An idea so powerful that it sent chills from the top of my head all the way down to my feet.  I saw the divine Goddess gathering all the archetypes, the spirits, the energies, the ancient seers, healers, so-called witches and Goddesses together in a circle.  A reunion of the feminine soul throughout history and around the world.  Every incarnation of her joined together, holding hands and raising the vibration of the earth and every creature on the planet in love and healing.  It was Freya, the Norse Goddess and namesake of my novel, who calls them together!
Freya's Circle is the name that immediately came to mind.  Since ancient times when women gather in circles they magnify their power.  Perhaps a reason why this practice has been taboo and linked to dark magic.  It's time to reclaim the love and healing power of the divine feminine, something women intuitively understand.
It could be that my reading of "Women Who Run With The Wolves" by Clarissa Pinkola Estes is fusing with my dreamtime!  I highly recommend this robust and illuminating book about reclaiming the Wild Woman archetype as a vital and powerful aspect of the feminine.
As I prepare for the TOOLS FOR AWAKENING IN BUSINESS radio show this am, I saw this excerpt from a fellow soul-journer Jeff Brown's piece APOLOGIES TO THE DIVINE FEMININE (from a warrior in transition).
I apologize for my inability to distinguish the benevolent warrior from the heartless warrior, a reflection of my own confusion dealing with the battlefields of yore. When I opened my heart too wide, I was vulnerable to attack from warring factions. I was conditioned to believe that I had to stay rigid, focused, prepared for any eventuality, in the desire to protect myself and others from attack. But I went too far, and closed too tight, and eradicated the bridge between our hearts. I am seeing this now and I am sorry.

I apologize for my perpetual absence, a reflection of my own inner absence, my inability to connect from a heart jammed tight by unresolved emotions that I did not have the tools to work through. I still lack many of these tools, but I am open to their emergence.

I apologize for my inability to distinguish relationship from war. Like a warrior in enemy territory, I would sneak in and out of your life in the night, plundering and selfishly taking what I needed, then crawling back to the other side of the abyss with the spoils. I gave little back for fear that I would become vulnerable to attack. I had war on the brain and I could not see the river of love waiting on the other side of the battlefield. I now recognize that love is the antidote for the armoured warrior, but I could not drink the antidote in my driven state.
There is great need for healing in this world.  It is time to heal the feminine soul.
Join me today for a Free Tele-summit called Building Authentic Relationships (BAR).  I am a guest speaker  September 11 at 11am PDT (1pm CDT, 2pm EDT) along with Stephanie Gunning, a coach and motivational speaker.  I will be talking about how important it is for women and mothers to share their voices and their gifts with the world now.
Visit http://www.toolsforawakening.com/bar/22 to sign up.
The calls are absolutely FREE and will be recorded for convenient playback for 48 hours following the call. In addition, you will have an option to purchase all the calls for your training library. First you must register here: http://www.toolsforawakening.com/bar/22
I hope to see you today.  Let's get this circle started!
Fondly,
Lisa Labon
Visit www.lisalabon.com to sign up for my periodic updates on FREYA WOLF and to be part of FREYA'S CIRCLE.