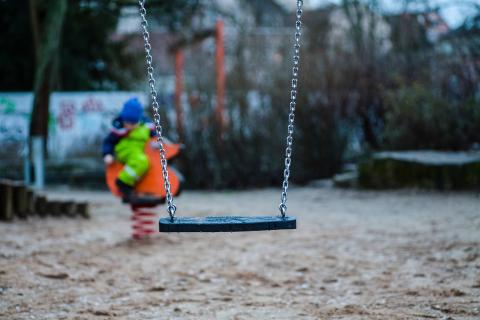 When Schools Close, Child Care Centers Come to The Rescue. What Happens When They Must Close, Too?
By Maya Boddie, Communications Fellow with Community Change
Access to quality child care is a necessity, particularly as we face the COVID-19 crisis that has transformed our lives. Child care workers set a solid foundation for many families, caring for children to allow parents to go to work without worry. Think about the young children of nurses, doctors, cashiers at local stores. Where can they send their children to be properly taken care of while they work through this pandemic to save people.
Unfortunately, the same child care providers are currently experiencing the brunt of the impact of the COVID-19 pandemic.
With the coronavirus rapidly spreading throughout the United States, thousands of schools  and child care centers have been among the first to close their doors. Many children are required to stay at home with parents or guardians who are currently under enforced "work from home" for their respective jobs. 
As of March 16, Education Week reports 37 states have closed public schools and districts, resulting in the closure of 72,000 schools, leaving 37.4 million public school students out of school.
The same closures are happening with child care centers. Where will early childhood educators get their income as their centers close?
While states such as Colorado and New Mexico have declared child care workers eligible for paid sick leave over the next couple of weeks, and states such as Minnesota and Delaware urge child care centers to remain open during this time of crisis, some states are demanding the opposite. Rhode Island state government has ordered child care centers to close, Iowa is talking about the possibility of closing all centers, and Ohio's governor publicly stated that an order is on the way. The downside of centers remaining open in states like Minnesota, is that although parents have pulled their children from childcare, they still must pay in order to keep their child's "spot."
Early childhood educators such as Angelique Speight, the owner of Miss P's Daycare in Washington DC, would be among those early childhood educators who would feel a heavy hit by the closures. Speight, a member of SPACES in Action - a grassroots D.C. based organization that advocates for living wages for early childhood educators, shared her fears with The Washington Post about how hard it is for low-wage child care educators facing this coronavirus uncertainty. With the annual salary for child care workers in Washington, D.C. sitting at $33,000 a year, the impact of the virus will be immense.
Similarly, low wage workers with young children who may not have paid sick leave and must continue to work during the pandemic will need child care more than ever, but may not even be able to afford the cost which can be up to $24,000 in some states. For example, Allison Vaughn of Michigan, a single mother, has a third grader and "a job she can't miss, and no money for child care." 
Without question, today's reality demonstrates how critical access to quality and affordable child care is for all families across the country.
To add to this crisis, for facilities across the country that have not been told to close yet, the issue of capacity comes into play. The CDC strongly recommended avoiding gatherings of 50 people or more, and less than 24 hours later during a press conference, Trump set the number to no more than 10 people. This can result in a nearly impossible situation for child care centers that may not be able to accept any more children due to the spike in need. 
Now more than ever is the time to demand early childhood educators get the support they need so they can continue to successfully support our children. Our leaders must create solutions to this child care crisis by updating our child care infrastructure to function in normal times and expanding access to care and vouchers so families who need care now can receive it. It's the only way to help families in moments of crisis like the one we are facing today.