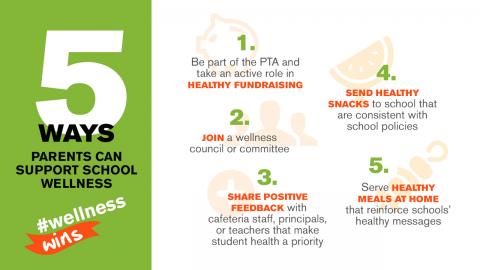 When Parents Get Involved in School Health, #WellnessWins
By Ahna Bizjak, Parent and Former PTO President, Oregon School District, WI
When it comes to learning healthy habits, parents are children's first teachers. From cooking nutritious meals at home to being a role model for staying physically active, we lay the foundation for our children's future health habits. 
Aside from home, children spent the majority of their time at school, making it an ideal place to reinforce these healthy habits. As a mom of two, it's vitally important to me that my children's school prioritizes health.
First and foremost, a healthy body supports a healthy mind. When students eat nutritious meals and have opportunities to be active throughout the day, they can better concentrate on learning. Second, when a school focuses on health, it not only encourages students to be healthy, but inspires staff, families and the whole community to embrace healthy lifestyles – and get involved!
That's exactly what we've done in Oregon School District. Parents are committed to helping advance our district's wellness efforts by raising funds for the annual "Move-A-Thon" event that teaches fun ways to be active and participating in a healthy recipe contest. It's great to see the district and parents work together to show our kids that health is important.
As PTO president of my children's elementary school, I helped implement healthier fundraising alternatives and the sale of healthy foods that aligned with district nutrition guidelines at afterschool events. Though I have transitioned my role as PTO president because my children will be graduating to middle school this fall, I have confidence that our healthy initiatives will continue – thanks in large part to our district wellness policy.
A district wellness policy establishes practices that empower students, staff and parents to make healthy choices. Oregon School District used the Alliance for a Healthier Generation's Model Wellness Policy to create a wellness framework that meets our health and wellness goals.
As a mom, having this policy in place assures me that no matter which school my children attend in the district, I can count on their health being a priority.
We're just one of many districts across the country benefiting from a strong wellness policy. I'm excited to see more success stories like ours highlighted through the #Wellness Wins campaign.
Launched by the Alliance for a Healthier Generation and the American Heart Association's Voices for Healthy Kids initiative, #WellnessWins celebrates wellness policy successes and helps other district leaders (and parents!) take action for student health. WellnessWins.org features tips and resources for parents to get involved and help your child's district meet its wellness goals.
So, what are you waiting for? Visit WellnessWins.org today!
Ahna Bizjak is a mother of two from Oregon, WI. She is an active participant of community health efforts, serving as PTO president at Brooklyn Elementary School, where she led efforts to improve healthy fundraisers and nutritional options for afterschool events.
Connect with Oregon School District on Twitter: @OregonSchools