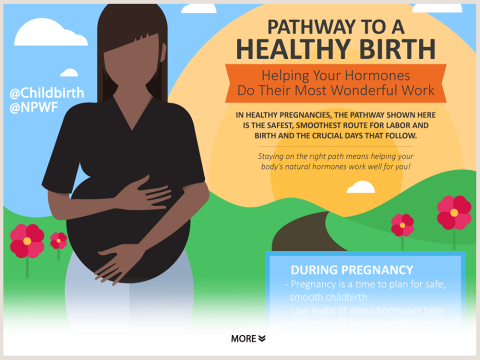 When Less is More: Every Mom Deserves a Healthy Childbirth, Every Baby a Healthy Start
The road to a safe and healthy birth in our over-medicalized maternal care system can be like a drive through a foreign city without a map. Confronted with countless options for medical tests, treatments and other, often unnecessary, interventions, pregnant women may wonder which way to turn when preparing to give birth.
Now women have a new guide to help them find their way to a healthy and safe childbirth. Called Pathway to a Healthy Birth: How to Help Your Hormones Do Their Wonderful Work, the guide was published last month by Childbirth Connection, a program of the National Partnership for Women & Families that is improving the quality and value of maternity care through consumer engagement and health system transformation.
The new guide aims to help pregnant women make choices that will support their health, and the health of their babies, through labor, birth, breastfeeding and bonding. That's easier said than done in a health care system that relies too heavily on medical interventions that can disrupt innate biological processes during childbirth and, in doing so, jeopardize the health of mothers and babies.
When serious problems arise, of course, medical interventions can be the best way to keep mothers and babies healthy and safe. But too often in the current maternity care system, tests and procedures are used even when they're not needed—and even though they interfere with natural birth hormones that have evolved over the millennia to protect maternal and infant health.
Unnecessary interventions, in short, can do more harm than good.
Oxytocin, prolactin and other birth hormones, for example, help mothers and babies get ready to give birth, prepare babies for labor and life outside their mothers' bodies, and promote breastfeeding and bonding. Interventions that disrupt these hormones can end up making labor and birth longer, more difficult, and more risky—and they can weaken newborn health and attachment. Even the hospital setting can pose problems. Bright lights, loud noises, and frequent vaginal exams can increase stress levels that can get in the way of a healthy labor and birth.
Many pregnant women aren't aware of the critical role their hormones play in childbirth and, unfortunately, neither are their health care providers. The Pathway to a Healthy Birth can help. It tells the story of a fictional woman named Angela who makes choices that allow her natural birth hormones to do their intended work. It also includes scientific explanations about birth hormones and the possible downsides of interventions; tips for finding care providers who understand and support birth hormones; questions to ask doctors and midwives; and guidance on how to make care choices that support the natural hormonal process.
It was released in conjunction with a major new report that concludes that birth hormones offer important benefits to women and babies, and common maternity interventions can interfere with these benefits. The report is an unprecedented synthesis of scientific research on how hormone systems function from late pregnancy through the early postpartum period; we released it amid growing recognition that patterns of maternity care in the United States are contributing to unnecessarily high rates of maternal and newborn morbidity and mortality as well as excess costs.
It's time to change the direction our maternal care system is headed in, for the health and safety of mothers and babies in our country. Pathway to a Healthy Birth, along with our new report and other associated materials, gives us the roadmap we need to reach that better future.