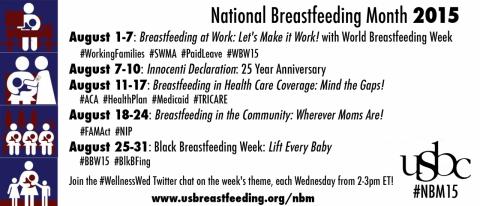 When Breastfeeding Starts with Dollars and Sense: Paid Family Leave & Breastfeeding
And we're off with National Breastfeeding Month 2015! Where conversations about breastfeeding normally start with infant feeding choices, this year's events begin with attention to a critical factor affecting that choice: paid family leave. Convention suggests that by providing parents with information about the benefits of breastfeeding, persuasive infographics comparing human milk and artificial formula, photos of celebrities and ordinary sheroes bonding with their infants through breastfeeding despite their personal challenges, new mothers will be overcome with inspiration to keep their new baby latch on for a full year as recommended by the  American Academy of Pediatrics. The reality is that for as massive as that list of proverbial carrots is for breastfeeding, there are formidable sticks to counter throughout our society and communities. This is why paid family leave is crucial.
Let's start with some statistics about paid family leave. Approximately 60% of workers are covered by FMLA (the Family Medical Leave Act). However, FMLA is not a paid leave; to choose FMLA would leave the majority of families economically vulnerable, which is a major deterrent to utilizing it. Only 13% of workers in the U.S. receive paid family leave, that includes mothers, fathers and caregivers of all types. Evidence from California, one of the three U.S. states with a mandatory paid family leave policy, demonstrates that paid family leave virtually doubles the length of time that an infant is breastfed. I love a celebrity breastfeeding revelation perhaps more than the average person, but not even your favorite reality TV star can inspire a woman to forfeit her hourly wages to breastfeed for 4 more weeks.
And there are other many issues of what we can do as employers, community members and parents to support a mother's choice to breastfeed for the length she desires.  Let's join together to consider, act upon and celebrate this August. National Breastfeeding Month, established by the United States Breastfeeding Committee, will focus on various aspects of the social landscape affecting a family's' capacity to choose and maintain breastfeeding. Participate throughout the month by following the #NBM15 hashtags and join MomsRising weekly from 2-3 pm ET on the #WellnessWed hashtag to connect and converse on each theme. To close out the month, we will celebrate the third annual Black Breastfeeding Week.