Take Action!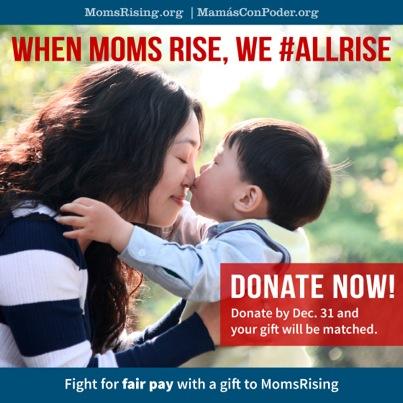 What's on your W2? Equality?
Next month, a W2 form showing your annual wages and taxes will arrive in your mailbox.
If you're a woman, chances are YOU WILL BE SHORTCHANGED. That means your W2 will likely show you make less than your male counterparts. The U.S. Census recently reported that women make only 78 cents to a man's dollar — and studies show that moms and women of color experience the most extreme wage hits.
My name is Laura Mui, and I have proven what we all know to be true, that wage discrimination exists.
Help mothers and ALL women get paid what they're worth. Make your contribution of $5 or more to MomsRising before Dec. 31 and your donation will be doubled by another donor. All gifts make a difference!
Here's my story.
Wage discrimination is very difficult to prove, but a few years ago I did just that. You see, the person who earned more than me is now my husband. We met 9 years ago at Columbia University, and we graduated together with the EXACT same degree.
Two years later, we became employed by the same agency for the EXACT same position. We were dumbfounded by the difference in our salaries. I made more than $5,000 less.
Why? I am female and Chinese American. My husband? White and male.
Even the playing field for moms and women. Contribute to MomsRising before Dec. 31 and your donation will be matched.
When I asked the agency about the discrepancy, I was given the runaround. The one response I did receive was that I should accept the pay or they would give the job to someone else (even though my qualifications far outweighed my partner's qualifications!).
I am not worth less!
MomsRising stood by me when I spoke up for fair wages. That's why I stand up for MomsRising. Together with people like you and me, MomsRising achieved several fair pay victories this year alone -- including passage of 3 Executive Orders and minimum wage laws in Maryland and Seattle.
Imagine how much more this movement could do in 2015 with your help.
Join me in supporting this growing moms movement. Because when moms rise, we all rise.
I won't mince words - unequal pay hurts our economy and puts moms and families in perpetual crisis. Less pay means moms struggle to provide the basics for our children like food, medicine, and housing, as well as longer-term needs like college tuition.
Here are the facts:
Women working full-time, year-round, still earn an average of only 78 cents for every dollar earned by men (Source: 

The U.S. Census);

Mothers' wages take a big hit, earning less than 73 cents to a man's dollar (Source:

 "National Women's Law Center: How the Wage Gap Hurts Women and Families." (NWLC calculations based on CPS, 2013 ASEC using Miriam King et al, "IPUMS, Current Population Survey: Version 3.0." Mothers and fathers have at least one related child under 18 at home. Figures are median annual earnings for 2012.);

The wage gap for women of color is even more staggering. When Black and Hispanic women work full-time, year-round, they only make 62 and 53 cents, respectively, for every dollar their white male counterparts earn. (Source: 

"The National Partnership for Women and Families: America's Women and the Wage Gap.")
Does this seem fair to you?
Together we CAN help moms and women earn what they are worth, AND help pull families out of poverty, AND boost our economy. We are MomsRising. Stand with us.
Thank you so much for everything you do and ARE for your families and our world. You are WORTH it! It's time to recognize this!
With love, peace and deep bows of gratitude,
Laura Mui
 
P.S. I can't stress enough how much your support will mean to women struggling to earn realistic and fair wages. To continue uninterrupted funding of its work, MomsRising needs your contribution today to meet it's $25,000 year-end fundraising goal. Double your power – give now and you're contribution will be matched. Thank you!