Last week, the Commission on Presidential Debates announced that a woman, Candy Crowley of CNN, would moderate one of the three nationally televised Presidential debates.  This makes Crowley the first woman in 20 years (!) to moderate a Presidential debate.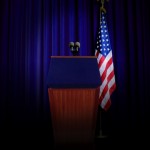 Although women have done a great job moderating recent Vice Presidential debates, including PBS' Gwen Ifill in 2004 and 2008, we've waited a long time for a woman to moderate the top ticket debate again.
However, the fact that a woman is moderating a presidential debate is far from a guarantee that the top issues for moms and families across the nation will be included in the debate discussions.  Because while there's a lot of talk by pundits and politicians about how critical the "mom vote" is this election cycle, too often our priorities are ignored or trivialized on the center stage of politics.
So, now it's our turn to frame the debate: What should Crowley and her fellow moderators ask our Presidential candidates in the upcoming debates?
So far, MomsRising members have sent in tons of questions through our online petition and via text (more about how to submit your questions below)!  We'll share all the questions we receive with the debate moderators.
Here are some of the questions we've received so far:
What are your plans for improving the lives of working families?
As President, what are your major concerns for women's health?
What will you do to fix pay equity for women?
The United States is one of three countries that doesn't guarantee paid family leave to all new parents. Don't you think it's about time?
I would like to know what cultural shifts can be made in corporate America to help women be more comfortable raising a family and working?
What questions would you ask if you were the moderator?
Tell us now by adding your comment below or sending us a text message!  To text, first send the message DEBATE to RISING (747464) and you're off and running.