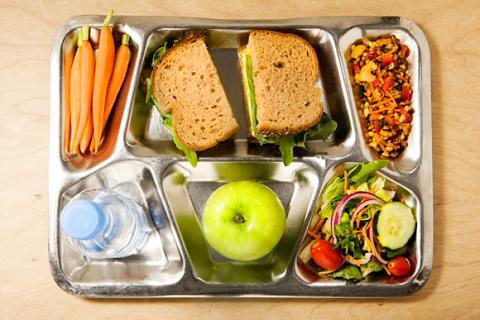 What School Lunch Can Teach Us
The statistics are alarming: One out of two public school students lives in poverty. Two out of three public school students qualify for free or subsidized lunch. Three out of five teachers in America report they have children who regularly come to school hungry.
If teachers and school support staff are on the frontlines fighting the war on poverty, we know that students are often the forgotten casualties. Fellow students sometimes do notice though—despite the utmost discretion by teachers and support staff—who gets a snack from their teacher during a test, or who gets a borrowed backpack filled with food on Fridays so they can eat over the weekend. So, as we celebrate National School Lunch Week, it's worth discussing how, as parents, we talk to our kids about the economic inequities, in addition to the racial inequities, that are deeply rooted in our neighborhoods and our schools. 
Inspired by the depth and thoughtfulness of resources compiled online by #FergusonSyllabus, I encourage parents and educators not to shy away from discussing their children's observations about inequities—even, perhaps especially, if it is uncomfortable. Children are naturally curious. As a parent and a teacher, I have learned that my children's and my students' questions can foster opportunities for powerful teachable moments. And, as parents, being prepared to seize those moments can be both powerful and rewarding. I will admit, I am not always comfortable with the questions my children ask—from "What does that cardboard sign say?" to "Why is this different at school?"—and I don't always have an answer ready. However, as I answer my children (often by thinking aloud), or as I pose a question back to them (to get them to clarify their question or stall for time while I think of how to reply), I am grateful for the opportunity to explore the answer together.
If we want to reclaim the promise of public education for all our students—and we do—then we need to tackle poverty and racial inequities head-on, at the same time we work for high-quality teaching and learning conditions. That means talking to our kids about it. And that means reshaping our schools to be able to meet the social, physical and emotional needs of our students.
I am inspired by Cincinnati, for instance, where every school is a Community Learning Center—that is, a one-stop-shop, neighborhood hub offering social services to students, families and others who need it, in addition to its attention to strong teaching and learning. These schools have medical and dental care, babysitting, tutoring, college counseling, job training and recreational activities, as well as teaching and learning. In essence, they've created an environment that complements a high-quality public education by empowering families, engaging parents and providing wraparound services for students.
The results are impressive. Cincinnati is now the highest-performing urban district in Ohio. High school graduation rates there are on the rise. Achievement gaps are closing, and morale is high among students, parents, teachers and support staff.
As parents and educators, we know that our children have one shot at a good education. Along with a strong and caring teacher, we want every child to have what he or she needs to succeed in school and in life—whether that's a free lunch, a tutoring session or an eye exam. So take some time during lunch today and join us in the movement to reclaim the promise of public education for each and every child.