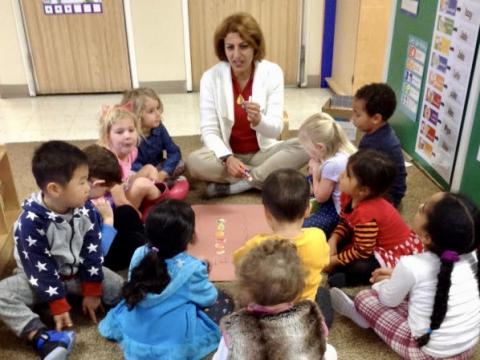 What my toddler son taught me about the travel ban
For days, concerned relatives and friends asked if the ban would affect us.
In one way, it doesn't affect us—we are naturalized U.S. citizens.
But in many ways, it does affect us.
My 3-year-old son's preschool teacher is from Iran. We love her and truly worried that we would lose a great teacher over that ban. For days my husband and I tried to come up with a good explanation for our child, but we couldn't.
At dinner table when the child was not listening, my mother-in-law said, "You don't have to tell him anything. He's gone through several teachers before, he'll be fine. He probably won't even notice that she's gone."
My father-in-law said, "If he does notice and ask questions, simply tell him that the teacher left. He will forget about it soon anyway."
My in-laws were wrong. Kids are not as ignorant and forgetting as we thought.
"Yes, it really worries me," the woman answered. She wore a Hijab.
My son overheard them and asked me, "Mama, what's she worrying about?"
We stepped out of Tom Bradley International Terminal, and he saw the protestors.
"Mama, what are these people doing?"
We had to start the difficult conversation early. "Look, baby. Our new President just made a new rule that stops people from some Muslim countries from coming to our country. But there are people who think the rule is wrong, so they are here to tell everybody what they think. And the woman with Hijab at the custom is probably a Muslim, so the rule worries her."
I tried to use small words. I wasn't sure if he understood. He thought about it, and then asked, "Do we know any Muslim?"
"Well, Ms. Parvaneh is from a Muslim country."
He stared at me. And then all in a sudden, he started to cry. Not crying, but wailing.
While we were driving home, my son fell asleep in the car. He woke up two hours later, and never asked any questions about the ban again.
When I picked my son up from preschool on the day of his return there, I asked him how school had been.
"Great," he said. "I'm very happy because Ms. Parvaneh was still there."
I was surprised. I thought (or I hoped) that he had already forgotten about that ban thing.
But apparently he hadn't. He asked me if the President was still trying to "kick Ms. Parvaneh out."
"Well, he may try again. But don't worry. The ban is not fair. People will speak up and help out."
"Who will? Will you, Mama?"
"……"
"Mama, will you speak up and help Ms. Parvaneh?"
"I will, baby."