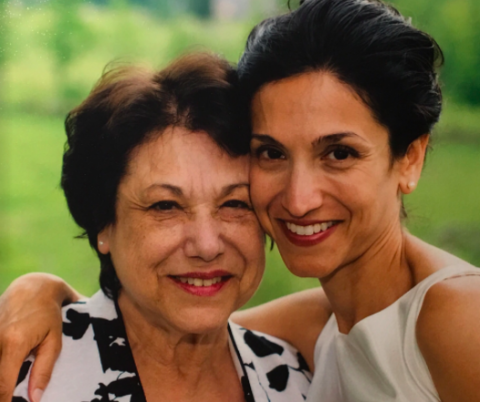 Recently I've started rereading What My Mother Gave Me, edited by Elizabeth Benedict's collection of essays in which adult daughters examine their relationships with their mothers through the lens of a gift their mother gave them, whether a wok, sobriety, flowers for a late-in-age bat mitzvah, all gifts that served as a "metaphor or touchstone" in their own lives and speak to the powerful and sometimes fraught mother-daughter bond.  After working part-time for several years and then spending the past two plus years primarily parenting and volunteering, I've been reflecting a lot on what I hope my next chapter to look like and the role my single mom has played in my own orientation toward work, raising children and having a full, rich and meaningful life.
Call me incredibly dense, but it wasn't until when someone made a stray comment about my mom being my champion on my behalf at school and thinking back on my childhood experience that I somehow connected the dots between her confidence in her parenting instincts and in me, and my own interest in parent advocacy. Watching my mom return to finish college, pursue a law degree, take the bar and retake it when she failed by a few points, and spend a career as a lawyer in city government while managing our house, me and a menagerie of pets after my parents divorced has informed so much of who I am and who I aspire to be as a parent.
My mom for the most part was raised by her grandmother, my great-grandmother, along with her two brothers in Kings Highway and Bensonhurst, Brooklyn partly in public housing. Probably to her benefit and my uncles' detriment, she was my great-grandmother's favorite as well as great-grandfather's, before he died in his 30s of lung cancer. Her grandmother had limited formal education and had spent her own childhood partly in foster care homes, as her family's fortunes were inconsistent and dependent on her father's income as a traveling salesman. But my mom, who had always been a bookworm and had enjoyed and done well in college when she returned, committed herself to having a rewarding career that would also provide us a measure of financial security.

Growing up, I knew at some level everything was held together with duct-tape.  From our jalopy car which my mom used to commute to law school in an hour each way (she once fixed the carburetors with a lipstick cap), our yard sometimes semi-wild and untended, the daily demands of managing her education and mine and raising me, there wasn't much time or margin for things to go very wrong.  At some point, I was aware that for a period of time, I had health insurance but she did not. Yet my mom was very careful to make sure that I didn't feel money was my worry to manage and that she was in charge.
But despite all this, or maybe because of it, she had the confidence to tell my fourth grade teachers, who warned my mom that I would not be able to stay on the "gifted" track if I didn't stop day dreaming so much, that I would focus on school when I was ready (she was right). She  advocated for my financial aid packages so that I could attend an independent high school and the college of my choice, and far too many examples to name here. Growing up, my mom, was the one who knew me best and was my constant and vocal champion.
It was while listening to an audio version of Brene Brown's The Gift of Imperfect Parenting that two of what she refers to as "guideposts" for parenting – hope and respect and hard work -- that I was struck by how my mom gave me these gifts and more without naming them as such. Brown has paraphrased C.R. Synder, former researcher at the University of Kansas, Lawrence, research on hope as goal-directed thinking rather than an emotional state. Growing up, my mom's confidence in herself, her parenting abilities, and in me, living a life of determination and perseverance through hard times and pleasure in daily joys was my mom's gift to me and continues to be her gift to me to this day. Recently in moments of feeling uncertain, imperfect and tired as the mother of two sometimes wild and precocious, but also kind-hearted, sensitive and brave little boys, I hope I am giving my own children some of what my mother gives to me.