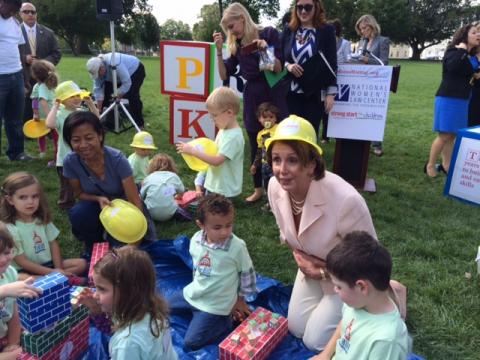 What MOMentum Has Accomplished in 2015 (So Far!)!
Well, you've done it again. And this time, you even got everyone in the U.S. Senate to agree on something. Every. Single. Senator.  Yes, you heard that right! All members of the U.S. Senate actually agreed on something... and that something was the fact that pregnant workers shouldn't be discriminated against.*
You're unstoppable!
In the first few months of 2015 alone, MomsRising members took over HALF A MILLION ACTIONS and played a key role in many impressive wins for moms and families. Your hard work and perseverance are paying off!
Never doubt that your phone calls, letters, stories, one-click signatures, meetings, shared stories, deliveries, and rallies really work. Together we're creating a safer, fairer and more just world for moms and families-- while also boosting our economy.
THANK YOU for all the ways you support this movement. Our progress is only possible through your kind support.
Chip in now and we'll DOUBLE your gift!
Moms, dads, friends….this is what winning looks like.  Here are a few of the many recent victories where YOU played a role in the win:
FUNDED: Children's Health Insurance Program (CHIP)
With funding for the Children's Health Insurance Program (CHIP) set to expire September 2015, moms, healthcare providers, and children's health advocates alike were concerned that Congress would not be able to come to an agreement in time to prevent millions of children from having disruptions in health coverage or losing it altogether.
Nearly 40,000 MomsRising members came together to tell Congress: "Don't Gamble With Our Kids' Health." They shared personal stories, wrote letters to the editor, called and tweeted, signed on to letters, and dropped by the offices of their members of Congress — AND IT WORKED!
In April, Congress voted to extend funding for CHIP with an overwhelming majority in both the U.S. House and the Senate.
THREE MORE MUNICIPALITIES ENACT PAID SICK DAY LAWS 

AND THE SENATE TAKES AN UNPRECEDENTED VOTE ON PAID SICK DAYS
MOMentum continues to win paid sick day victories in states and cities across the nation, building on the incredible wave of wins in 2014. Tacoma, Wash.; Philadelphia; and Bloomfield, NJ joined the paid sick days hall of fame within the first few months of 2015—and moms and dads played a big role in those victories.
MomsRising volunteers spoke up and shared their experiences with leaders and the media, sent letters, called and met with their elected officials to win other paid sick days legislation over the past few years in the states of Connecticut, California and Massachusetts; and in the cities of San Francisco; Washington, DC; Seattle; Portland, Ore.; New York City; Eugene, Ore.; Oakland, Calif.; and the New Jersey cities of Newark, Irvington, Passaic, Paterson, East Orange, Montclair, Trenton and Jersey City.
In a stunning moment of support a filibuster-proof majority of U.S. Senators voted in favor of paid sick days by voting "yes" on a non-binding budget resolution vote. Although the vote isn't binding, this bi-partisan show of support is an important indicator that our elected officials are finally catching up to what we've all known for a long time: We ALL get sick, and we ALL need a chance to get better for the sake of our families' and our nation's economic security.
PAID FAMILY LEAVE ADVANCES
This is an area where we all need to celebrate moving the ball down the field, changing the game, increasing awareness, and gaining momentum. That's exactly what happened with paid family leave (maternity/paternity leave).
When the U.S. Department of Labor (DOL) announced, "Lead on Leave," a tour showcasing the economic benefits of paid leave, who did they call? MomsRising. DOL knows MomsRising members have stories to tell and are passionate about issues like paid family leave.
Over the past few months, paid family leave (maternity and paternity), as well medical leave, has gained national attention. MomsRising members are helping MOMentum grow by using every platform available to make it loud and clear we want paid leave.  And it's making a difference!  The city of Seattle just passed paid family leave (maternity/paternity leave) for all city workers, other counties, and states are moving forward this policy too!  Your voice matters!
MORE STATES SUPPORT EQUAL PAY
Momentum for equal pay is growing across the country. So far in 2015, MomsRising members have been actively involved in advancing equal pay legislation for women in Maryland, New York, and Washington states, as well as at the national level.
MomsRising members have shared their experiences and spoken publicly about their personal experiences with unfair pay at numerous press conferences, including in DC with Senate leaders on Equal Pay Day 2015. MomsRising also reached millions and millions of people to educate them about the issue of unfair pay, including organizing national tweetstorms on Equal Pay Day 2015 that saw #EqualPayNow trending across the country in English and Spanish with over 273 million impressions.
BURGER KING AND WENDY'S DROP SOFT DRINKS FROM KIDS MEALS
For years MomsRising advocates have been trying to get restaurants to stop merchandising unhealthy fountain drinks as a default part of their kid meals. Fact is sugar-sweetened beverages like sodas are the largest source of calories in children's diets and provide nearly half of their added sugars intake; and drinking just one sugary drink each day increases a child's odds of becoming obese by 60 percent.
In early 2015, Burger King and Wendy's listened, agreeing to remove soda as a default option from their children's menus because of pressure from moms and dads (and YOU!) who wanted healthier choices for their kids.
Hundreds of thousands of our members spoke out against pushing unhealthy beverages on kids through blogs, letters, twitter, phone calls, and an amazing presentation at a Wendy's shareholder meeting.
FINALLY, JUNK FOOD BANNED FROM SCHOOLS
You spoke. The USDA heard. Junk food sold in schools is on the way out.
We're thrilled to report that, thanks to a surge in comments by MomsRising supporters, volunteers, and partner organizations, the USDA finalized much-improved nutritional standards for snack foods and beverages sold in schools.  Plus now more than 90% of elementary, middle, and high schools are in compliance with the new, higher nutrition standards for school lunches.
The new rules ban junk food advertising in schools, too!  You were heard and your voice is powerful!
JUSTICE DEPARTMENT LAUNCHES NATIONAL POLICE REFORM ACTION
In coalition with ColorOfChange, MomsRising is urging the Department of Justice and the Obama Administration to move forward quickly with important police reforms. Our goal: stop the dangerous wave of police brutality and racial profiling that's devastating our communities. More than 50,000 MomsRising volunteers have spoken out for this set of policy reforms.
We gained our first victory in January when then-U.S. Attorney General Holder barred local and state police from using federal law to seize cash, cars and other property without warrants or criminal charges.
It's a sweeping check on police power that begins to restore civil rights that have been trampled on.
The decision follows a Washington Post investigation published in September that found that police have made cash seizures worth almost $2.5 billion from motorists and others without search warrants or indictments since the terrorist attacks of Sept. 11, 2001.
The Post found that local and state police routinely pulled over drivers for minor traffic infractions, pressed them to agree to warrantless searches and seized large amounts of cash without evidence of wrongdoing…
Police spent the seizure proceeds with little oversight, in some cases buying luxury cars, high-powered weapons and military-grade gear such as armored cars, according to an analysis of Justice Department data obtained through Freedom of Information Act requests. – The Washington Post, January 16, 2015
WINNING PROTECTIONS FOR PREGNANT WORKERS
In March the U.S. Supreme Court issued an important win for Peggy Young and pregnant workers across the nation. The decision said that if an employer accommodates a large percentage of other workers, it must accommodate pregnant workers too.
MomsRising staff and members rallied outside the Supreme Court on the day Peggy Young's case was heard and even gave her a 300 page thank-you card that more than 30,000 people from across the nation signed. 
There's more!
The U.S. Supreme Court win was followed closely by another win for pregnant workers when the U.S. Senate UNANIMOUSLY voted to support a non-binding amendment to help provide reasonable accommodations to pregnant workers (like bathroom breaks). 
Yes, you heard that right! ALL members of the U.S. Senate actually agreed on something... and that something was the fact that pregnant workers shouldn't be discriminated against. (This didn't happen by accident. Moms and dads have been reaching out to members of Congress urging they move forward on protections for pregnant works for months. You were heard!)
We're not done yet!  *The Senate agreement was non-binding because it was on a budget resolution and not on an actionable item and so we must continue to press for Congress to pass the Pregnant Worker Fairness Act.
We must continue the climb for economic security for women and families. Can you chip in to fuel this MOMentum? The next great victory for moms and families awaits your investment!
Chip in now and we'll DOUBLE your gift!