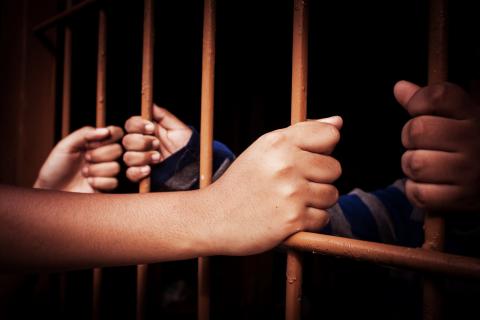 What is the logic behind putting kids in adult prisons?!
UPDATE: Victory!
 L
egislation to 
Raise
the
Age
 of criminal responsibility 
in
 New York from 16 to 18 passed as part of 
New York

's Executive Budget
. 
Let's be clear. The fact that New York state incarcerates young people as adults is about systemic racism.
New York is one of two states, including North Carolina, that treats children as adults in the criminal justice system, even for misdemeanors and nonviolent offenses.
The need for juvenile justice reform in NY is not just a legal issue, it's a  humanitarian one.
Tragedies like that of Kalief Browder shed light on how the criminal justice system is failing our most vulnerable children and youth. Kalief was arrested at 16 years old, accused of stealing a backpack, an accusation he vehemently denied. Unable to afford bail, he was incarcerated for three years WITHOUT TRIAL. He spent the majority of his incarceration at Rikers Island, denied due process, and in solitary confinement.
Kalief faced physical and emotional abuse, and when ​he ​was finally released, despite desperately trying to cope with the trauma he endured, Kalief took his life.
Let that sink in for a second. A childhood stolen,  incarcerated at 16 years old, abused in the prison by inmates and guards, all without being charged of a crime? This is wrong! 
NOW IS THE TIME FOR NEW YORK STATE TO SUPPORT CHILDREN INSTEAD OF FUNNELING THEM INTO A PIPELINE FOR PRISON.
The unfortunate reality is Kalief tragedy is not an isolated case.  Nearly 28,000 16 and 17-year olds are arrested and face the possibility of being charged as adults in criminal court each year.  The majority of cases are for minor crimes (72% are misdemeanors).  
And more than 600 children, ages 13 to 15, are also processed in adult criminal courts, funnelling these kids down the school to prison pipeline before they even enter high school. The overwhelming majority (70%) of 16 and 17 year olds arrested are Black or Latino, and of those kids sentenced to incarceration, 80% are Black or Latino. This furthers a culture of criminalizing Black and brown kids. 
It doesn't have to be this way!
New York is one of only two states in the country that have failed to recognize what research and science have confirmed – adolescents are children, and prosecuting and placing them in the adult criminal justice system doesn't work .  
Research shows that 16- and 17-year-olds are physiologically and physically still maturing; their judgment and decision-making processes aren't yet fully formed. Putting a young person into an environment where he or she can be abused and corrupted by older inmates typically only teaches him or her to become a hardened criminal. Youth are also 36 times more likely to commit suicide in an adult facility than in a juvenile facility.
Moreover, when Connecticut raised the age in 2007, recidivism plunged and overall arrests of 15- to-19-year-olds dropped by over 50%, by far the largest drop of any age group in the state.
And it just so happens that the state would save as much as $100 million by not locking up teenagers with adults.
The time is now to raise the age of criminal responsibility in New York and stand on the right side of justice! Click HERE to Sign on to our letter asking your legislators to act now  and END the practice of incarcerating kids as adults.
Raise the Age in NY NOW!