What is Gov. Brown doing to make California more 'baby-friendly'?
Great news! Last month, California Governor Jerry Brown signed a bill that will make it easier for California moms to start and continue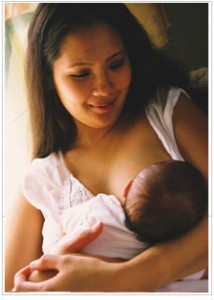 breastfeeding their newborns.
Specifically, the bill requires that by 2025, all hospitals in California delivering babies must implement common sense policies that greatly increase the number of breastfeeding mothers across income and race. These policies include practices such as helping mothers start breastfeeding within one hour of birth, and providing referrals for breastfeeding support when mothers are discharged.
California mothers want and need this support! While 90% of California mothers plan to breastfeed, only 40% are exclusively breastfeeding two days after leaving the hospital.
Please join us in thanking Governor Brown and bill sponsors Senator De León, Senator Pavley and the California WIC Association for leading this tremendous victory for babies and their families! All it takes is one quick click on our message below!
By sharing your thanks via Twitter, we'll show Governor Brown, California legislators that increased support for moms and new babies is popular and they should keep at it! As an added bonus, as hospitals throughout California begin implementing this law and other states consider adopting a similar one, we'll show that moms have their backs.
Find a hospital that already implements these policies by clicking here. If you are looking for a great resource for mothers who wish to start and maintain breastfeeding, check out this resource from La Leche League.
Let's make breastfeeding support available to all women!
Send a Tweet of thanks now (just click on the box above or here) to encourage lawmakers around the country to do more for pregnant women and new mothers.